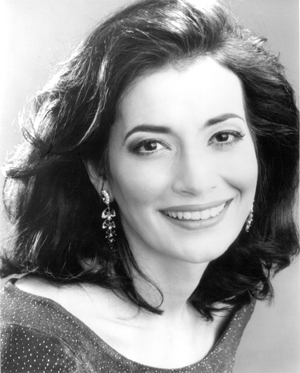 Barbara Landis, mezzo - soprano, recently covered and studied the role of Baba in The Medium with Gian Carlo Menotti at the Spoleto Festival in Italy. She has sung the title role in Carmen with the National Symphony Orchestra of the Dominican Republic, in a modern adaptation at Pegasus Playhouse of Chicago, with the American Opera Group, Highland Park Opera Studio, Illinois, and with other operatic companies in the Chicago area and San Francisco.
She has received critical praise for her portrayal of Carmen. "Ms. Landis as Carmen, wasn't afraid to play the role with the seductiveness and even raunchiness it requires. She was outstanding..." (Wheaton Daily Journal, IL). "Miss Landis can weave a spell over the audience." "...a dynamic mezzo soprano voice." (Naperville Sun, IL). Last year, she sang Carmen with the Golden Gate Opera in San Francisco's Golden Gate Park.
Barbara specializes in music and drama with a Spanish flair. Besides Carmen, she has portrayed the role of Aldonza in Man of LaMancha in the Midwest with Whitewater Opera, Sorg Opera, and in the Colorado Lyric Theatre Festival. Barbara has also portrayed Carmen in La Tragedie de Carmen.
Barbara has been active in the art of Zarzuela with Opera Factory of Chicago. She has performed the gypsy La Cantadora in La Verbena de la Paloma with Jarvis Conservatory Zarzuela Festival in Napa, CA. She has been a dance student of Pascual Olivera and Angela Del Moral and has danced in local theater and on NBC and WELD television.
Barbara has also studied and sung in Europe. At the Britten Pears School in England, she was a student of Nancy Evans. There she sang the role of Lucretia in concert excerpts from Britten's The Rape of Lucretia, which was taped for broadcast by the BBC. She has studied in Italy and has received critical praise in Brescia, Italy "Barbara Landis' skill was put forth in the dramatic aria 'Acerba voluttá' from Adriana Lecouvreur of Cilea, (Giornale di Brescia). Barbara has performed the role of Fidalma in The Secret Marriage with Kommishe Kammer Oper Munchen in Germany and was invited back the next season.
Locally, she has received critical acclaim as a comedienne for her portrayal of Mad Margaret in Gilbert & Sullivan's Ruddigore with Light Opera Works. She has also been praised for leading roles in Hansel and Gretel, The Italian Girl in Algiers and Gilbert & Sullivan's Trial by Jury. Other roles include: Amneris in Aida, Princess Eboli in Don Carlo and Orsini in Lucretia Borgia, with da Corneto Opera Ensemble (Chicago), and Eleanor, the young understudy, in Vaudeville Fantasy, an original work by Mae Cohen . Barbara can be heard on Cedille Record's The Medium with Chicago Opera Theater and has sung live on Chicago WFMT/FM radio.
Source: http://www.ovationmanagement.org/Landis_bio.html