"2008 Korean American Day Cultural Celebration"
(Open to Public, free of charge)
January 11 (Fri), 12 (Sat) & 14 (Mon), 2008
12 - 1 pm
at Richard J. Daley Civic Center
50 W. Washington St., Chicago, IL

Program:

Opening Ceremony
"Flag-Raising Ceremony"

with R.O.K. Marine Veterans Association of Chicago
The Korean National Anthem by Insun Kim, Soprano

A special flag-raising ceremony of the Korean Flag, to be flown alongside the American and Illinois Flags, will be proudly performed in celebration of Korean American Day. the touching ceremony will begin at 12 Noon, and the flag will be carried by members of the Republic of Korea Marine Corps Association in Chicago. It will also include a Korean cultural performance futuring traditional dance and music. The ceremony will run approximately one hour.

"The President's Volunteer Service Award" ceremony

This is issued by the President's Council on Service and Civic Participation on behalf of the President of the United States to recognize the best in the American spirit, and to encourage all Americans to improve their communities through volunteer service, and civic participation. More information at www.presidentialserviceawards.gov .

Performances:
* Korean Traditional Percussion Ensemble "Il Kwa Nori"
* Korean Traditional Dance "Choom Sa Rang"
* Halleluiah Chamber Orchestra
* Saxphone Solo: Jessica Lee
Skokie Public Library-Radmacher Theatre
(5215 Oakton Street, Skokie, IL. 60077/Tel: 847-673-7774)
Time: 2 pm - 6 pm

Programs:

2:00 - 3:30 pm:

Korean Movie Showing
Korean Film "The Way Home"

3:30 pm - Greetings

3:45 - 4:20 pm

* Music Recital; Sejong Music Competition Winners (piano, violin, & cello) &
* Vocal solo performance
Ghibong Kim, baritone
Sojung Lee Hong, piano
MUSIC RECITAL AND VOCAL SOLO
PROGRAM
Ong ……………………………………… Geon-yong Lee
Variations on One String on a Theme by Rossini …….. Niccolo Paganini
Jessica Hyunjin Cho, cello
Jung Eun Lee, piano

Yang-San-Do ……………..……….………… Dong-il Sheen
Zigeunerweissen …………..…………………. Pablo Sarasate
Hannah Selonick, violin
Mary Drews, piano

Nil-nili ………………………………….…….. Jean Ahn
Mephisto Waltz ……………….…….………. Franz Liszt
Paul Juhn, piano


목련화 (Magnolia) ….………….. 김동진 (Dong-jin Kim)
산아 (Mountain) ……………….. 신동수 (Dong-soo Shin)
Ghibong Kim, baritone
Sojung Lee, piano
4:30 pm -

* Korean Traditional Percussion Ensemble "Il Kwa Nori"

* Korean Traditional Dance "Choom Sae Rang"

* Lee & Kim Korean Traditional Fashion Show
K.A.S.A. Sponsored Events Celebrating Korean American Day

Northeastern Illinois University – Recital Hall
5500 North St. Louis Ave., Chicago, IL 60625

Programs:

2:00 pm - 6:15 p.m.

Korean Film Presentation
Korean Film "Family Ties"
Korean Americans Immigration Documentary Film "Arirang"

2:00 pm – 4:00 pm Korean Film "Family Ties" Presentation (113 min)
4:15 pm – 5:15 pm: Korean Americans Immigration Documentary Film Presentation
Arirang, Part I: Origin of Korean American Journey (54 min)
5:15 pm – 6:15 pm: Arirang, Part II: The Korean American Dream (54 min)

6:15 pm – 7:00 pm

Reception
Reception at Recital Hall Lobby
Refreshment will be served in the area of Recital Hall Lobby

7:00 pm - 9:00 p.m.

Panel Discussion
" The Korean American Journey after the Centennial"
A panel of Korean Americans, chaired by Dr. Kyu Young Park of NEIU,
will reflect on 104 years of the Korean American experience.
Speakers include Dr. Kwang Jung Kim. Dr. Yoon Mo Lee and Mr. Kwang Dong Jo.

- All Events are Free and Open to the Public -

About K.A.S.A.
Korean American Student Association of Northeastern Illinois University

K.A.S.A. is the Korean American Student Association at NEIU that was organized in 1996 to introduce and share Korean cultural heritage and custom with the members of the university and spread information about the Korean culture to people of all backgrounds in the Chicago metropolitan area as well as promoting multiculturalism and unity.

K.A.S.A. is proud to support 2008 "Korean American Day Celebration" to be held on Saturday, January 12 at Skokie Public Library and Monday, January 14, 2008 at NortheasternIllinoisUniversity as a part of the various programs that K.A.S.A. presents throughout the year. These programs are partially sponsored by the Korea Foundation together with the Korea International Trade and the Korea Tourism Organization.


Performances

Il Kwa Nori (일과놀이)

Il Kwa Nori is a Korean American cultural troupe that performs as a percussion ensemble, incorporating elements of song and dance. Il Kwa Nori translates into "Work and Play", reflecting the traditionally integral role that culture played in the daily life of rural Korea.

Since its inception in 1988, Il Kwa Nori was formed with the intention of promoting Korean cultural traditions in the city of Chicago. Il Kwa Nori is housed within the Korean American Resource & Cultural Center and serves as a meaningful complement to the center's social justice work.

Il Kwa Nori coordinates the annual Jishin Balpgi Lunar New Year Street Festival in the city of Chicago and surrounding suburbs every year and other major cultural events and performances all year round. In 2006, the group was named one of "Great Performers of Illinois" and gave its solo performance at Millennium Park in October.

Founder & Fashion Designer
Gue Yung Lee


Director & Fashion Artist
Myung Shin Kim

Photos from the 2006 Daley Plaza Korean Fashion Show

The Chosun Dynasty (1400 AD)
Korean Traditional Dress
Queen & King Dress

Traditional Party Dress for Wedding
made by Designer Gue Y. Lee

Lee & Kim Hanbok Gallery
4219 Commercial Way, Glenview, IL. 60025
Phone: 630-362-2787
Staff: Founder Fashion Designer: Gue Yung Lee
Director Fashion Artist: Myung Shin Kim

Gue Y. Lee has more than 30 years of experience as a Hanbok fashion designer in Korea and U.S.A.
She is one of the top Hanbok designers in Korean American Community at Midwest Area.
She held more than 10 fashion shows so far.

Myung Shin Kim is the art director of LEE & KIM Hanbok gallery.
She graduated KYUNGWON University in Korea.
She was a teaching assistance and an art instructor at the KYUNGWON University.
She is also the founder/director of the Naperville ARTLAND Inc.

Lee & Kim Hanbok Gallery:
-Work:-Exhibition the Korean Traditional Dress Accessories
-Selling the Various Hanbok Modern Dress for Wedding
-Educate Research the Korean Dress history and Culture
-Support the Korean Traditional Dress Fashion Show Event

"Korean baritone GhiBong Kim showed off a voice of sensitivity; powerful, smooth and of good tone. In him there is real strength but he can diminish his sound for moments of pathos and romanticism. He shines in the noble 'O Lisbona' from Donizetti's Don Sebastiano, Bellini's 'Ah, per sempre' (I Puritani), the moving 'Avant de quitter' (Faust) and in his rendering of Rodrigo's grand death scene from Don Carlos. On several occasions during 'Vien, Leonora' from La Favorita and the 'Eri tu' he was a true actor. The audience let loose with bravos." ~ Liberta', Piacenza, Italy, 2000

"Korean Baritone GhiBong Kim attended the Seoul National University on scholarship. After receiving his Bachelor of Music degree he went to Parma, Italy. Mr. Kim selected Parma because of its international reputation of the "Arrigo Boito" Conservatory which Renata Tebaldi and Claudio Abbado had attended. He graduated with the highest academic points from this conservatory. Following his graduation he was a winner of the 10th International Competition "Rocca delle Macìe" in Siena, finalist of the 9th Tito Schipa Competition in Lecce and 6th in the Flaviano Lavó competition in Piacenza.. . ."

His first operatic role was Papageno in The Magic Flute. Mr. Kim's first professional performance was as Cola in Paër's Camilla at Teatro Regio di Parma. Due to the success of his first appearance he was engaged to perform Belcore (Elisir d'amore), Marcello (La Boheme) and Rigoletto (Rigoletto) with the same company. His beautiful timbre and powerful voice fits the belcanto repertoire. Other repertoire includes Enrico (Lucia di Lammermoor), Germont (La Traviata), Renato (Un Ballo in maschera) and Valentine (Faust).

As winner of the prestigious competition "Rocca delle Macìe" in Siena he was invited to perform at the Grosser Rathaussaal, in Passau, Germany. Then he was invited to sing at Verdi's 185th Anniversary Opera Gala at Teatro Regio in Parma and Millstatt Opera Gala presented by the Dante Alighieri Association in Millstatt, Austria.

Since moving to Chicago he has performed several benefit and memorial concerts. Elijah is a signature oratorio role which GhiBong has performed extensively in the United States. He is music director and choir conductor of Alliance Fellowship Church of Chicago. He currently studies with Sherrill Milnes. He is currently a music faculty at Judson University, Elgin, IL

More information at GhiBong Kim's official webpage

Sojung Lee Hong, Piano




Born in Seoul , Korea , pianist Sojung Lee Hong has been awarded the honorable prizes from her early music training ; the President's Award from Seoul National University and the Founder's Award from Seoul Arts High School as valedictorian . In Korea , she has given many solo and chamber music recitals at such major venues as the Seoul Arts Center , Sejong Arts Center , and Hoam Arts Hall .

She continued her graduate study at the University of Illinois at Urbana-Champaign and earned a Doctor of Musical Arts degree in piano performance and literature. In the U.S. she has appeared as a recitalist in the Midwestern states and performed with Valley Civic Orchestra, Elgin College Community Orchestra , and Germania Orchestra of Saginaw, Michigan . In 2006, Dr. Hong was invited as a clinician at the conference of Illinois State Music Teachers Association held at Millikin University , Decatur , IL .

She has enjoyed her dual career as an educator and performer since she joined music faculty as Assistant Professor at Judson University in Elgin , Illinois . Her teaching areas at Judson include applied piano, piano literature, and pedagogy. In summer 2007 she taught and performed as a guest artist-teacher at the EumYoun Piano Academy and Summer Music Festival , Korea .

In Sun Kim, Soprano

In Sun Kim, soprano graduated Sung Shin Women's University Music School with Voice major in 1985.

She was a member of Teen-life singers, Music major associated choir, Choi Hooncha Choir.

She has given numerous Missionary voice concerts in community churches, prisons, army camps, nursing homes, orphanages, and government and public offices since 1979.

She was awarded an honorary citizenship of Orange County, CA in 1980, and she was awarded an Exemplary Teacher Award from the Seoul Education Department in 2002.

Hallelujah Chamber Orchestra

The Hallelujah Chamber Orchestra was formed in 2002 by fifteen Korean-American musicians, all graduates of major music conservatories from across the country.

They will be performing at Daley Plaza on Friday, January 11, 2008 at noon.

The Hallelujah Chamber Orchestra performs regularly throughout the Chicagoland area.

For the last four years, their events were sponsored by commissions from human relations for the city of Chicago. They performed at the Pusan-Chicago International Sister City Program Signing Ceremony, as well as more than twenty other Korean-American community events.

Young Park, the president of the Hallelujah Chamber Orchestra, recently received a commendation from Mayor Daley.

Paul Juhn, age 16, attends Vernon Hills High School. He began playing the piano when he was four years old.

He currently studies piano with Emilio del Rosario, cello with Blake Brasch, and chamber music with Mr. Hans Jensen at the Music Institute of Chicago. His former piano teacher was Dr. Soo Lee at the Music Institute of Chicago.

He won prizes at many competitions including CAMTA, the North Shore Music Teachers Association, the Illinois Music Teacher's Association, and the Granquist Music competition. He has placed first in the Primary, Junior, Intermediate, and Senior division of the Society of American Music competition and was the alternate in the MTNA Junior competition in 2004. In 1998, he was the youngest winner in the piano division of the Midwest Young Artists Concerto competition and an overall win at the 2003 Walgreens Concerto competition. Paul has won first place in both the junior (2005) and senior (2007) divisions of the Sejong Music Competition and was a finalist in the CSO Youth Auditions.

He has given many public performances, including the Young Steinway Series at the Skokie Public Library (2001) and on WNIB radio station as one of "Chicago's Most Promising Student Pianists". Recently, Paul performed at a Gala Celebration for the Music Institute of Chicago and in the "East meets West" series with Korean themes.

Paul will be making his orchestral debut playing the Carnival of Animals with the Chicago Symphony Orchestra in February and in March will play in the "Music in the Loft" Series.

Hyunjin Cho, 17 year old, a senior at Glenbrook South High School, started playing the cello at 11 with David Cunliffe at the Music Institute of Chicago. She is currently a member of the MIC Academy Program.

Hyunjin has had master classes with renown musicians such as Juilliard violinist, Tai Murray, Avalon String Quartet, the Pacifica Quartet and more.

Recently Hyunjin has been asked to perform in front of one of world's most famous violinist Midori at the MIC's 75th anniversary. Spring of 2006, Hyunjin also performed in the Young Steinway Concert Series.

Her awards include first place in the Junior and Senior division at the Confucius Chinese Fine Arts Competition, concerto winner at the Glenbrook Concerto Competition, and her most recent: first place in the 2006 SAM Senior Division, first place in the 2006 Music Chorale Competition, and Most Outstanding Player in the Senior Division of the 2006 Music at Trinity Competition.

Hannah Selonick, who is of one-half Korean decent, is a seventeen-year-old senior at Evanston Township High School in Evanston, Illinois. She has been studying the violin for eleven years, and is currently a student of Desiree Ruhstrat at the Music Institute of Chicago.

For the past two years she has been Concertmistress of the ETHS Symphony Orchestra. In addition, she has participated in the pit bands of many school shows, most recently in the current production of Yamo.

Formerly, as a member of the Gioco Quartet, Hannah performed on the nationally syndicated radio show "From the Top" and was selected as a quarter-finalist for the Fischoff Chamber Music Competition. In 2002, she performed live with the quartet on WFMT for the station's 51st Anniversary program. Hannah has also performed as a soloist with the Mozart Symphonia, a professional community orchestra.
In the summer of 2003, she participated and performed in the Utah Music Festival. Hannah has won honorable mentions and third place at the Musichorale Competition in Oak Lawn, Illinois. She has won honorable mentions at the Midwest Young Artists Competition.

Hannah has also performed at a variety of venues including the Art Institute of Chicago and Chicago's Orchestra Hall during Holiday and fund-raising events.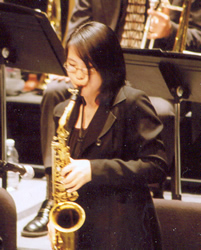 Jessica Lee, 17 years old is Senior at
Carl Sandburg High School.
- Lead chair of Harper College Jazz Ensemble
- Lead chair of District 7 Jazz IMEA Jazz Band 1
- IMEA All State Concert Band alto saxophonist
- Lead chair at Carl Sandburg Jazz Band
Korean Traditional Dance "Choom Sa Rang"

Midwest Korean Traditional Art Association (MKTAA)
Choom Sarang Korean Dance Group
3750 Greenleaf Lane
Northbrook, IL 60062

In 2003, Helen Lee, along with a dozen other Korean immigrant Chicagoland women, created Choom Sarang Korean Dance Group. It was their hope to preserve their training and knowledge, but also share their unique talents with both the new generation of Korean-Americans and multicultural audiences in local and international venues.
R.O.K. Marine Corps Veterans Association of Chicago
R.O.K. Marine Corps Veterans Association of Chicago was established in 1980 with eighty Korean Americans in Chicago area. They have been annually participated Korean Marine Corps. Establishment date of April 15th event, June.25th Korean War Commemoration event and September 28th (서울수복탈환 기념). They have been join member with Veterans of US First Marine Corps. and exchange many programs and events throughout.

Click here to view photos from the 2007 Korean American day events