"2009 Korean American Day Cultural Celebration"
(Open to Public, free of charge)
January 11 (Sun) 2009 - Skokie Libray, IL
January 13 (Tue) 2009 - Richard J. Daley Civic Center
January 7 - 25, 2009 "Discover Korea" at Barrington Area Library
Skokie Public Library-Radmacher Theatre
(5215 Oakton Street, Skokie, IL. 60077/Tel: 847-673-7774)

Korean Movie
Jan 13
at Richard J. Daley Civic Center
50 W. Washington St., Chicago, IL
Program:

Opening Ceremony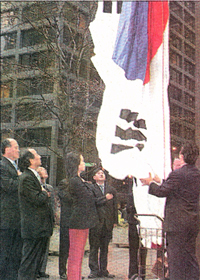 "Flag-Raising Ceremony"
with R.O.K. Marine Veterans Association of Chicago
A special flag-raising ceremony of the Korean Flag, to be flown alongside the American and Illinois Flags, will be proudly performed in celebration of Korean American Day. the touching ceremony will begin at 12 Noon, and the flag will be carried by members of the Republic of Korea Marine Corps Association in Chicago. It will also include a Korean cultural performance futuring traditional dance and music. The ceremony will run approximately one hour.



Performances:

* Korean Traditional Dance "Choom Sa Rang"
* Music perfomance by a violinist and soprano
* Art exhibition
Barrington library schedule of event - "Discover Korea"
Jan 7, 2009 through Januray 25, 2009
Schedule of programming is as follows:
January 7, Wednesday, 7:00 p.m. – Korean Cooking with Jonathan Bean
January 9, Friday, 8:00 p.m. – 2nd Fridays – Choom Sarang Korean Dance Group
Jan 10, Saturday, 12:30 pm - Martial Arts of Korea
January 11, Sunday, 2:00 p..m. – Korean Children's Traditional Dance & Korean Slide Presentation Travelogue (Presented by Chicago Korean National Tourism Office)
January 14, Wednesday, 7:00 p.m. – Korean Fables and Tales
January 17, Saturday, 2:00 p.m. – Art of Quilling: Korean Paper Craft ( Presented by Korean American Community Services)
January 17, Saturday, 3:30 p.m. Tied in Knots: Korean Knotted Crafts (Cell phone charm) ( Presented by Korean American Community Services)
January 25, Sunday, 2:30 p.m. – Presentation: Rise of East Asia: Impact on Global Society (Illinois Humanities Council)
All programs, except the cooking class, are open to everyone. All programs are free. The public can sign up to register for these programs by calling the library.at 1-847-382-1300. x312, x315 or by going to www.barringtonarealibrary.org . Click Programs on the left menu and select the program from the calendar.
Gallery in the Library: Exploring the Korean Past
Barrington Area Library Gallery Exhibit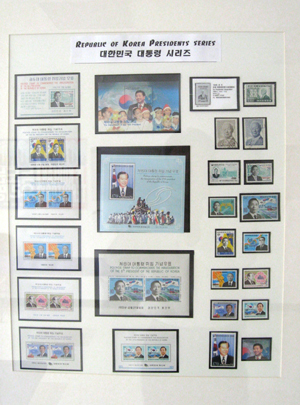 "Exploring the Korean Past," on display through January at the Barrington Area Library Gallery, showcases the historic milestones of Korea as reflected through the personal stamp collection of Jin Lee, Director of the Keumsil Cultural Society. Included in this exhibit are the first Korean stamp, diplomatic milestones, Korean Presidents and various symbols of Korean culture. Mr. Lee, who began collecting stamps as a child, believes that exploring the world through stamps is a relaxing, educational and rewarding hobby. Stop by the library during "Discover Korea" month to get a glimpse of the geography, history, culture and art of Korea through this fascinating collection. Mr. Jin Lee is an avid stamp collector and member of numerous business, community, and cultural organizations and serves as Director of Business, Planning and Development at the Albany Park Community Center and Trustee of Northeastern Illinois University.

Barrington Area Library
www.barringtonarealibrary.org
505 N. Northwest Highway
Barrington, IL 60010
1-847-382-1300, x. 312, x315


Performances

Yoo Sun Na is a lyric soprano from Seoul, Korea. She is currently pursuing a DMA in vocal performance at the University of Illinois at Urbana-Champaign. And she is a recipient of full scholarship under the guidance of Professor Cynthia Haymon-Coleman. She earned Bachelors degree from Seoul National University where she received the Presidential Scholarship and graduated cum laude. She received her Masters degree in Vocal Performance at the New England Conservatory of Music with graduation honors.
Her debut was in Carnegie Hall for honoring First Prize in Barry Alexander International Vocal Competition in 2008. She also has been featured in several operatic performances including Countess in Le Nozze di Figaro, Electra in Idomeneo, Clorinda in La Cenerentola, Jean in Le Portrait de Manon, Rusalka in Soprano Monologue, Blanche in Dialogues of the Carmelites and Hedwige in Guillaume Tell. She has performed extensively in Korea, appearing at the Seoul Arts Center, the Se-Jong Center and the Asian Cultural Center. Her performances were also broadcast on the Korean Broadcasting System and Christian Television Channel. She has been featured in Chosun newspaper, New England Korean News, The New England Korean Alliance Press, and Boston Korea News Paper.
In her upcoming performance, she has the main role of opera, Beatriz, "Rappaccini's Daughter" in Krannert Center this February. top
Jennifer Cha
, Violin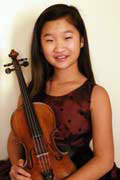 Jennifer Eugena Cha, age 12, attends Crone Middle School in Naperville, IL and is a student of Desiree Ruhstrat at the Music Institute of Chicago. She started playing the violin at the age of 5. As a member of Betty Haag Academy and its Magical Strings of Youth, she performed at various local events and toured Germany and Italy for performances including performing in front of Pope at Vatican. She has won awards and prizes from Chinese Fine Arts Society, Sejong Cultural Society and Walgreen's National Concerto Competition including 1st place in the Junior I at the 2006 Chinese Fine Arts Society and in the Junior Division of 2008 Sejong Music Competition.
Jennifer, along with her older sister and friend, is a regular volunteer for the Fine Arts for Healing Program at Edward Hospital in Naperville, IL where her string trio routinely performs for the cancer treating patients.

Midwest Korean Traditional Art Association (MKTAA)
Choom Sarang Korean Dance Group
3750 Greenleaf Lane
Northbrook, IL 60062

In 2003, Helen Lee, along with a dozen other Korean immigrant Chicagoland women, created Choom Sarang Korean Dance Group. It was their hope to preserve their training and knowledge, but also share their unique talents with both the new generation of Korean-Americans and multicultural audiences in local and international venues.
R.O.K. Marine Corps Veterans Association of Chicago
R.O.K. Marine Corps Veterans Association of Chicago was established in 1980 with eighty Korean Americans in Chicago area. They have been annually participated Korean Marine Corps. Establishment date of April 15th event, June.25th Korean War Commemoration event and September 28th (서울수복탈환 기념). They have been join member with Veterans of US First Marine Corps. and exchange many programs and events throughout.