Chicago Classical Philharmonic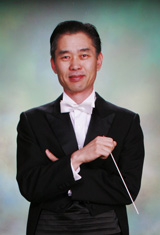 Chicago Classical Philharmonic presents
"Adagio & Classic "
Choonnam Chung, Founder and Music Director
Concert program | Artist Profile | about CCP | map | poster | CCP photo
Sunday, April 22, 2012 5PM
The Salvation Army Mayfair Community Church
5020 N. Pulaski Rd., Chicago, IL 60630
773-794-6210
Tickets: $25
Call: 312-401-2224, 847-331-0987, 847-902-5767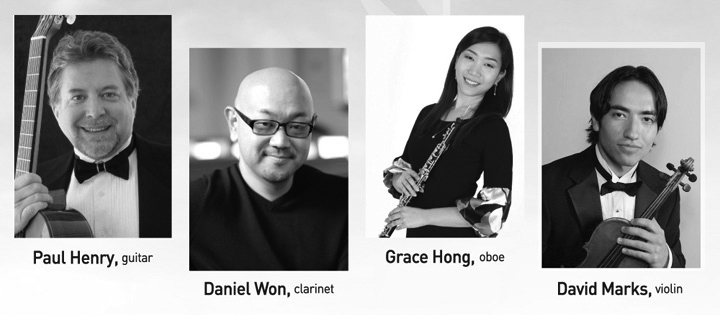 Program
Program

Divertimento K. 136 (Allegro)----------------------------------------------------------- --- Wolfgang Amadeus Mozart
Concerto for Clarinet (Adagio) ------------- (Daniel Won, Clarinet) -------------------------------------------- Mozart
Concerto for Oboe in Eb ---------------------(Grace Hong, Oboe)------------------------------------ Vincenzo Bellini
Legende op. 17 ---------------------------------( David Marks, Violin)------------------------------- Henri Wieniawski
Prelude #1 ---------------------------------------(Paul Henry, Guitar)-------------------------------- Heitor Villa- Lobos
Leyenda ------------------------------------------(Paul Henry, Guitar)---------------------------------------- Isaac Albéniz
Adagio from Spartacus --------------------------------------------------------------------------------- Aram Khachaturian
Intermission
Zigeunerweisen (Gypsy Airs) op. 20 -------(David Marks, Violin) -------------------------------- Pablo de Sarasate
Valse Triste (Sad Waltz) from the incidental music for Kuolema, Op. 44 --------------------------- Jean Sibelius
Gabriel's Oboe ---------------------------------(Grace Hong, Oboe) ----------------------------------- Ennio Morricone
Entre-Act nach dem 3. Aufzuge from Rosamende --------------------------------------------------- Franz Schubert
Concierto de Aranjuez (Adagio)-------------(Paul Henry, Guitar)----------------------------------- Joaquin Rodrigo
Danse Boheme from Carmen suite -------------------------------------------------------------------------- George Bizet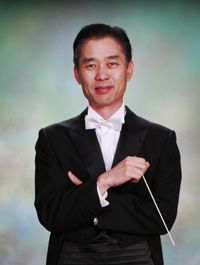 Choonnam Chung, Music Director of the Chicago Classical Philharmonic, studied music performance at ChungAng University in Seoul Korea. Mr. Chung won the second prize for the Trombone Performance of the Music Association Competition of Korea in 1980.
He played with Incheon City Symphony Orchestra as an Assistant Principal Trombone Player for seven years, Seoul Wind Ensemble as a Principle Euphonium Player, and Rinnai Wind Ensemble as Faculty and Player. He then came to Chicago in 1992, and finished his Master's Degree in Music Performance in 1995 and Certificate in Music Performance in 1997 at DePaul University.
He has traveled and performed solos with the Chicago Staff Band, countries including Chile, Canada, New Zealand, United States of America. Mr. Chung also completed the Master's Degree in Orchestral Conducting studying with Dr. Glen Block at Illinois State University in 2003, and was an Assistant Conductor at ISU Orchestra.
He resides in North suburb of Chicago area with a violinist, Younghee Kim and 10 year old daughter Evelyn, and is a Choir Director of the First Korean United Methodist Church.
He organized the Chicago Classical Philharmonic in 2007. Under the leadership of Maestro Chonnnam Chung, the Philharmonic is leading and upgrading the cultural Scene in Chicago area with fresh and unique concert programs.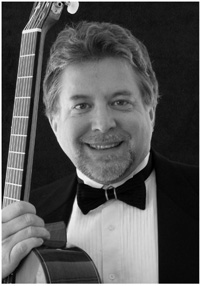 Paul Henry has received high acclaim for his performances across the United States. Following his first Carnegie Recital Hall performance for the La Folia Series, Guitar International Magazine said, "Paul Henry thoroughly enthralled the audience.
He was recently featured in Guitar One Magazine as one of the top 10 guitarists in the United States. A student of Andres Segovia in a series of master classes at the University of Southern California, Segovia praised Henry for his "finesse and great sense of musicality with his instrument." His recordings: The Romance of Spain on the Cadenza Classics label and The Virtuoso Guitar of Spain and Latin America on the Centaur label have received outstanding reviews.
He has conducted master classes at many colleges and universities throughout the United States and is on the faculty of Roosevelt University's Chicago Conservatory of Performing Arts, Concordia University in River Forest, Illinois and The Metropolis' School of Performing Arts in Arlington Heights Illinois.
He has conducted master classes at many colleges and universities throughout the United States and is on the faculty of Roosevelt University's Chicago Conservatory of Performing Arts, Concordia University in River Forest, Illinois and The Metropolis' School of Performing Arts in Arlington Heights Illinois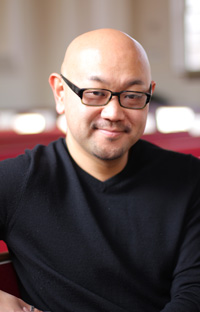 Born in South Korea and raised in Southern California, Chicago clarinetist Daniel Won is a member of the Chicago Sinfonietta, the Joffrey Ballet orchestra, and the Music of the Baroque orchestra. He has appeared on the Chicago Symphony Orchestra's MusicNOW series and has performed with the Chicago Chamber Musicians, the Grant Park Orchestra Association, the Alabama Symphony, and the Civic Orchestra of Chicago.
Daniel received his Bachelor of Arts degree from the University of California, Los Angeles. During his studies at UCLA with Gary Gray, he won the Los Angeles Philharmonic Fellowship Competition and performed as principal clarinetist of the Young Musicians' Foundation Debut Orchestra, the American Youth Symphony, and the Walt Disney-Grammy Collegiate Orchestra in Orlando, Florida. Daniel's many solo appearances include the Pacific Symphony Orchestra, the Colorado Springs Festival Orchestra, the UCLA Philharmonia Orchestra, and the 9th Street Philharmonic Orchestra.
Daniel earned a Performer's Certificate and a Master of Music degree from DePaul University School of Music, where he studied with Larry Combs and John Bruce Yeh of the Chicago Symphony Orchestra.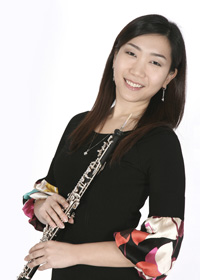 Grace Hong recently received her Performance Certificate from DePaul University in Chicago.
Grace has been performing with the Chicago Symphony Orchestra, LA Opera, Seoul Philharmonic Orchestra, Green Bay Symphony and many other ensembles in Chicago area. She also went on a 2008 European Tour with the Chicago Symphony Orchestra. Recently, she performed the complete Ring Cycle with the LA Opera.
Her festival appearances include Aspen, Colorado College Music Festival and Pacific Music Festival. Grace is not only an active performer but also a devoted teacher.
She has been teaching oboe for years and currently teaches at Concordia University Chicago and New Music School. She also serves as an oboe teacher/music director of Northfield Music Academy at Northfield Presbyterian Church.
Grace received her undergraduate degree from Oberlin and her master's degree from Roosevelt University.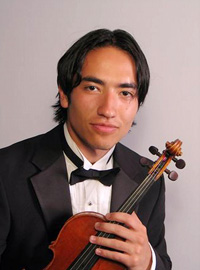 Violinist David Han Marks is a native of Chicago, IL.
David collaborates with many musicians and is an active performer of solo, chamber, and orchestral repertoire. His collaborations have taken him across the globe from Disney Hall in Los Angeles, California to Grosse Hall in Salzburg, Austria, to Moscow, Russia.
Performances in New York City have been in prestigious venues such as Carnegie Hall, Avery Fisher, Alice Tully, and Bargemusic.
David received both his Bachelor's and Master's degree in music from the Juilliard School. David currently resides in New York City.
Chicago Classical Philharmonic (CCP) was founded in April 2007 and is composed of professional Korean and American musicians who reside in the Chicago area. CCP has been in actively providing quality concerts in the Korean community of the Chicago area. Its musicians have a passion to provide performances of a higher musical standard.

Under the leadership of music director, Choonnam Chung, CCP had its "Inaugural Concert" in July, 2007, "Autumn & Classic" in September, 2007, and was invited by Onesti to perform at St. Charles for "Buona Notte Pavarotti" Concert in December 2007 and an encore performance in May of 2008. CCP had "Nostalgia & Classic" in July, and "Christmas & Classic" concert in December 2008. CCP also had "Korean Independence Concert" in August 2009, "Love & Classic" in May 2010, and First Korean United Methodist Church Concert, in December 2010-2011. CCP was invited to perform both at "Chicago Korean Cultural Center Open House Concert" and "President, Myung Park, Lee Chicago Visit".

CCP is revitalizing the cultural environment of the Korean community and finding hidden talent in the young generation by giving them performance opportunities. CCP will guide them to be the frontier leaders of the next generation succeeding to their true cultural identity and heritage. To provide cultural heritage and harmonious environment through music for the Korean community and Chicago area residents,


CCP has set its annual concerts as follows:
1) Concerts for the Needed and Challenged Neighbors
2) Concert Night for featuring young Korean-American musicians
3) Annual Concert

시카고 클래시컬 필하모닉(CCP)은 시카고 한인 전문 연주자들을 주축으로 2007년 4월 창단되어 주류사회 전문연주자 들과 함께 60여명의 연주자들로 구성 되어 있다.

CCP는 예술성과 대중성을 겸비하여 다양한 음악을 지역사회에 제공하며, 재능있는 한인 음악인을 육성하여 주류사회로 진출시키는 목적을 갖고 있다. 또한 양질의 공연문화 창출로 동포사회 문화 발전에 기여하며 한민족의 정체성을 확립하려는 목적을 갖고 있다.

CCP는 2007년 7월1일 상임지휘자, 정춘남 지휘의 "창단연주회" 를 필두로 하여 9월 "가을과 클래식" 2008년 6월 "향수와 클래식", 12월 "크리스마스와 클래식" 등의 연주회를 갖은바 있다. CCP는 대형 엔터테인먼트 회사인 ONESTI의 초청으로2007년 12월 "파바로티 추모 연주회" 와 2008년 5월 엥콜공연을 갖았으며 2009년 8월 "제64주년 광복 경축 연주회와, 2010년 5월 "사랑과 클래식" 연주회를 개최 하였다. 2011년 6월 시카고 한인 문화회관 개관 연주회와 2011년 10월 이명박 대통령 시카고 동포 간담회에 초청연주를 하였고, 2011-12년 12월 한인 제일 연합 감리 교회 초청연주를 하였다.
Concert Location: Salvation Army Mayfair Community Church
5020 N. Pulaski Rd. Chicago, IL 60630
Map service provided by www.Maps.Google.com

View Larger Map with a Street View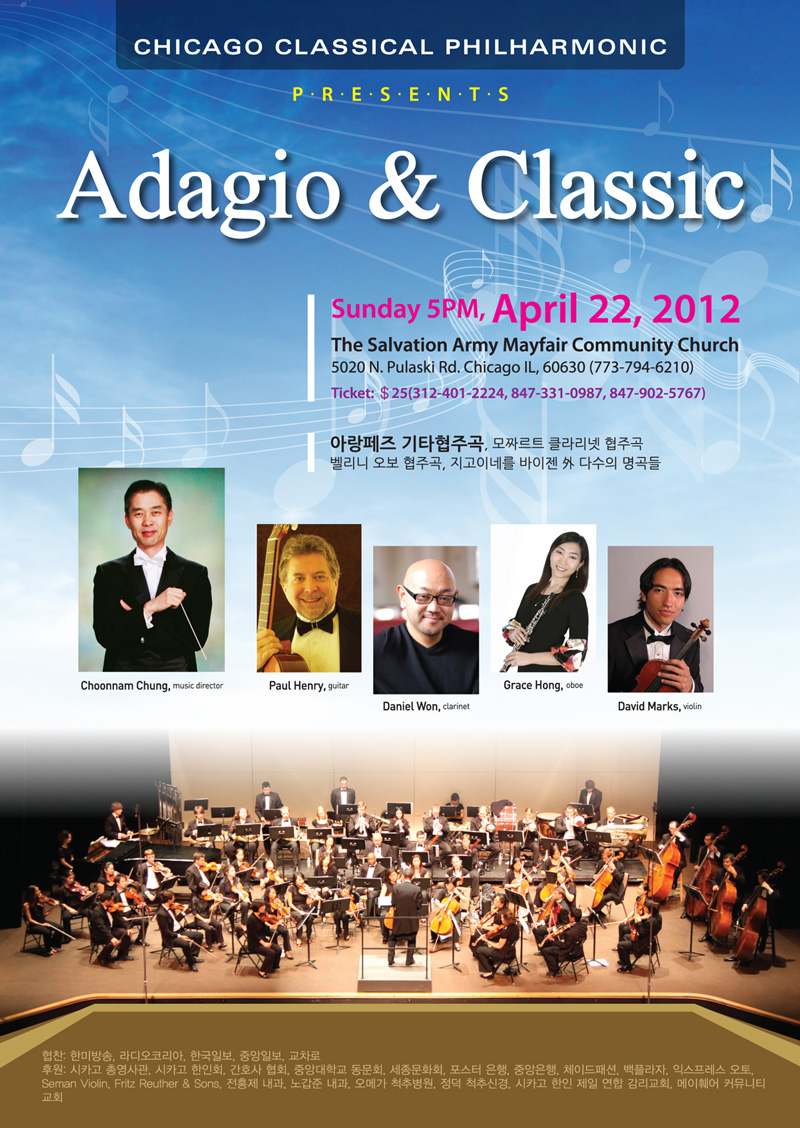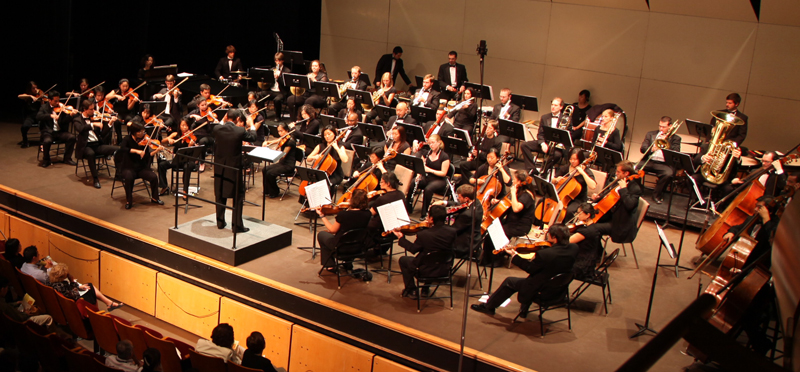 Chicago Classical Philharmonic high resolution photo
©Copyrigt 2005-2011 KP World, Inc, LittleDomains.com, all rights reserved.
e-mail: ChicagoBulletin@gmail.com