PROGRAM
Im Wundershönen Monat Mai (In the wonderfully fair month of May)
from "Diechter Liebe" (The Poet's Love) Robert Schumann
Ich liebe dich (I love you) Ludwig van Beethoven
Ghibong Kim, baritone; Jee-Eun Song, piano
Ich liebe dich (I love you) Edvard Grieg
Eunsil Ra Kim, soprano; Jee-Eun Song, piano
Korean art songs
Ghibong Kim, baritone; Eunsil Ra Kim, soprano; Jee-Eun Song, piano
O Tod, wie bitter bist du (Oh death, how bitter is the remembrance)
Wenn ich mit Menschen und mit Engelszungen redete (If I speak in the tongues of men and of angels)
from "Vier ernste Gesänge" (Four Serious Songs)
Johannes Brahms
Ghibong Kim, baritone; Jee-Eun Song, piano
Widmung (Dedication) Robert Schumann
Liebst du um Schönheit (If I love for beauty) Clara Schumann
Botschaft (Blow, Breeze, gently and lovingly) Johannes Brahms
Eunsil Ra Kim, soprano; Jee-Eun Song, piano
Liebesfreud (Love's Joy) Sergei Rachmaninoff
Sojung Lee Hong, piano
Piano Quintet in E flat major, Op. 44 Robert Schumann
Allegro brillante
In modo d'una marcia. Un poco largamente
Scherzo: Molto vivace
Allegro ma non troppo
Avalon String Quartet & Sojung Lee Hong, piano
I Love You So from "The Merry Widow" Franz Lehar
top.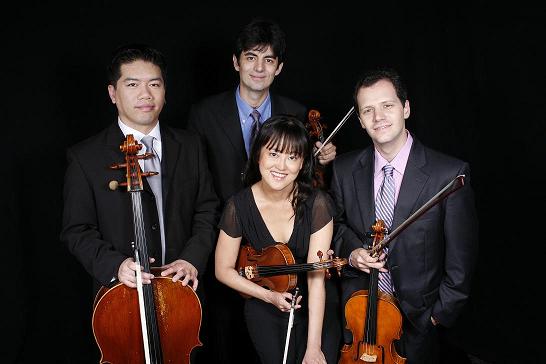 Avalon Quartet
Blaise Magniere, violin
Marie Wang, violin
Anthony Devroye, viola
Cheng-Hou Lee, cello
Described by the Chicago Tribune as "an ensemble that invites you-ears, mind, and spirit- into its music", the Avalon String Quartet has established itself as one of the country's leading chamber music ensembles.
In the 2011-2012 season the Avalon is performing the complete Beethoven quartet cycle at the Art Institute of Chicago in historic Fullerton Hall. They have performed in many major venues including Alice Tully Hall, 92nd St Y, Carnegie Hall and Merkin Hall in New York; the Library of Congress in Washington DC; Wigmore Hall in London and Herculessaal in Munich. Other performances include appearances at the Caramoor Music Festival, La Jolla Chamber Music Society, NPR's St Paul Sunday, Mostly Mozart Festival at Lincoln Center, Isabella Stewart Gardner Museum, Bargemusic, Dame Myra Hess Series and the Ravinia Festival. The quartet captured the top prize at the ARD Competition in Munich (2000) as well as the First Prize at Concert Artists Guild Competition in New York (1999).
The Avalon is quartet-in-residence at the Northern Illinois University School of Music, a position formerly held by the distinguished Vermeer Quartet. As a part of their residency, they perform an annual concert series in Chicago and DeKalb, and the quartet members teach individual studios and coach chamber music at the school. This follows previous residencies at the Juilliard School and at Indiana University South Bend. Additional teaching activities have included the Interlochen Advanced Quartet Program, Madeline Island Music Camp, Icicle Creek Chamber Music Institute and the Britten-Pears School in England.
In 2010 the quartet released a CD of contemporary American works on the Albany label to much critical acclaim. The Avalon Quartet's debut CD, Dawn to Dusk, including the Ravel and the Janacek Second Quartets, was honored with the 2002 Chamber Music America/WQXR Record Award for best chamber music recording.
The Quartet's live performances and conversation are frequently featured on Chicago's WFMT-FM, including a recent nationally syndicated live broadcast of Exploring Music with Bill MacGlaughlin. They have also been heard on New York's WQXR-FM and WNYC-FM, National Public Radio's Performance Today, Canada's CBC, Australia's ABC, the ARD of Germany and France Musique.
top.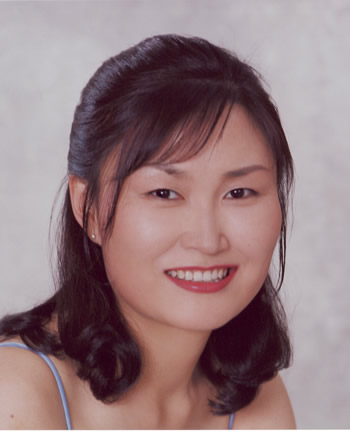 Soprano Eunsil Ra Kim, born in Seoul, Korea, began playing piano at the age of five and taking voice lessons at age eleven. She received a bachelor's degree in voice performance at Seoul National University. While studying at Seoul National University, she was chosen as a soloist for the French Art Song Festival at The National Theatre of Korea and the American Art Song Festival at Seoul Arts Center. Eunsil Ra continued her music studies in Italy at the Academy Jupiter in Genoa and at the National Conservatory of Music, 'Arrigo Boito' of Parma majoring in voice and vocal education. While she attended the conservatory, she performed as a soloist at "Pasqua" Concert at San Giovanni Basilica with the Parma Conservatory Orchestra. While she was active as an art song and oratorio soloist in Italy, her talent and training at the keyboard led her to serve as organist at the Evangelical Methodist Church of Piacenza for six years and at the Evangelical Methodist Church of Cremona for three years.
Since coming to the United States, she has performed as a soloist with the Chicago Voice Ensemble Concert and the Scholarship Benefit Concert for Korean Young Artists at the North Shore Center for Performing Arts in Skokie. She was also a soloist of the oratorio Elijahperformed at Gospel Presbyterian Church in Schaumburg and Creationat Alliance Fellowship Church, Hoffman Estates. She served as a conductor of the Korean YWCA Choir in Chicago. Currently, she serves as the conductor of the Zion Choir and the Children's Choir at Alliance Fellowship Church, Hoffman Estates, Illinois.
top.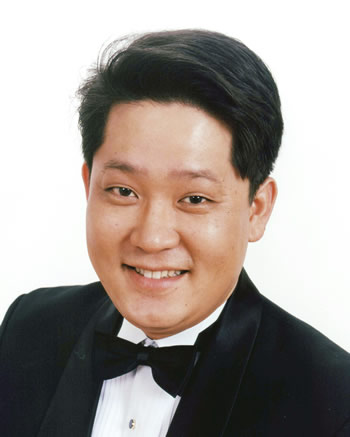 Baritone GhiBong Kim, born in Daegu, Korea, received his Bachelor's de­gree in Voice Performance at Seoul National University. Following this, he went to Parma, Italy to study at "Arrigo Boito" Conservatory, the same school for which Renata Tebaldi and Claudio Abbado at­tended. He graduated with the highest academic honors. He was also the finalist at Tito Schipa Voice Competition in Lecce and Flaviano Lavo' in Piacenza, Italy. His major teachers include Sherrill Milnes and Inci Bashar.
Mr. Kim's first professional appearance in Italy was as Cola in Paer's Camilla at Teatro Regio di Parma. Following this success, he was consequently engaged to sing as Belcore in Elisir d'mor, as Marcello in La Boheme, and as Rigoletto in Rigoletto with the same company. Other roles have included are (Lucia Di Lammermoor), Renato (Un Ballo In Maschera) and Valentine (Faust).
Since moving to the United States, Mr. Kim has been an active performer, not only in operas, but also as an oratorio soloist. Mendelssohn's Oratorio Elijah is his signature oratorio role. In 2006, Mr. Kim made his Chicago debut as Conte in Le Nozze di Figaro at Chicago Chamber Opera with the Northbrook Symphony Orchestra. Other roles include Germont in La Traviata with the Elgin Opera and Morales in Carmen at the DuPage Opera Theater.
top.
Jee-Eun Song, piano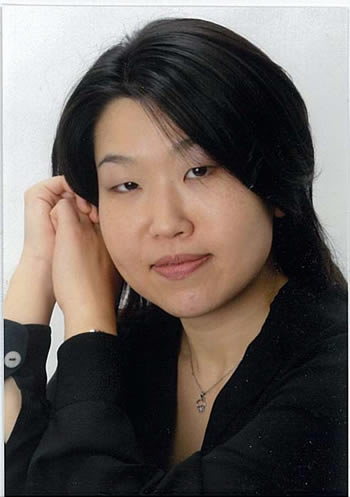 a native of Seoul, Korea, holds a Bachelor of Music in Piano Performance from Oberlin Conservatory and a Master of Music in Piano Performance and Pedagogy from Northwestern University where she graduated as an honor and played 'Beethoven Piano Concerto No. 5, Emperor' with NU Symphony Orchestra as a winner for the concerto competition. Her principal teachers have been Robert Shannon and Alan Chow. As a soloist, she appeared at Sejong Cultural Center in Seoul, Korea. She studied at Yewon School and Seoul Art High School in Seoul, Korea before she moved to the States.
Jee-Eun worked as a pianist for Gianna Rolandi at Chicago Lyric Opera, Sherrill Milnes and Mignon Dunn at NU, Richard Miller at Oberlin Conservatory, Jennifer Larmore and more voice teachers in Chicago area. She served as an accompanist for the Opera Workshop and Scene at NU working with Maria Zouves, the Director of Voicexperience. She had a great opportunity to be an accompanist and coach for Voicexperience (2002-2009) in Chicago, and Orlando and Tampa, Florida. She was a faculty for Midwest Young Artist Vocal Program in Lake Forest, Illinois('02-'04).
As a collaborative artist, she has played many concerts with Chicago Voice Ensemble in Chicago, Wisconsin, and Detroit. She played for the summer benefit chamber music concert for Salvation Army where she has previously played several concerts with talented singers. She participated Appreciation Concert (dedicated to President Truman & Korean war veteras) in Kansas City Music Hall in 2010. Jee-Eun currently lives in Chicagoland and is active as a piano teacher in North Shore area where she has been teaching since 2002. She enjoys holding spring recitals and Christmas recitals every year. She also serves as a pianist in United Korean Presbyterian Church in Chicago where she enjoys improvising music. Recently Jee-Eun is playing various chamber concerts with her colleagues and freelancing in Chicago area.
top.
Sojung Lee Hong, piano
Korean-born pianist Sojung Lee Hong has appeared as an active soloist, collaborative pianist, teacher, and church musician since her appointment in Judson University's music faculty, a Christian liberal arts institution in the Chicago area. In the past decade, notable public appearances range from a solo recital at Seoul Arts Center, a sacred music concert tour in South Korea, to a piano duo recital in New Jersey to a chamber music recital in Mexico. In addition to her international appearances, she has given over a hundred chamber music recitals with a various range of repertoire at performing art centers, universities, public libraries, and senior residences in the Chicago area. She has given lecture recitals at conferences such as the College Music Society International Conference (2011), the College Music Society Regional Conference (2011), and the Conferences of Illinois State Music Teachers Association (2006, 2009). In her home country, she has taught as a guest artist at the Summer Piano Workshop of Suwon Women's College and at the Eum-youn Summer Piano Academy since 2007. As Director of the Performance Certificate in Music program at Judson University, she organizes the annual scholarship benefit concert and raises funds to support talented students' education. For the Chicago community, she has helped to organize the Seoul National University Alumni benefit concerts, the Sejong Cultural Society benefit concerts and the Sejong Music Competition, and the charity concerts for Global Children Foundation and Food for the Hungry International.
Hong holds a bachelor's and master's degrees from Seoul National University (magna cum laude) and a doctoral degree in piano performance and literature from University of Illinois at Urbana-Champaign. Her piano teacher at UIUC was Ian Hobson, and the chamber music coaches were Peter Schaffer (violin) and Suren Bagratuni (cello). She also pursued accompanying as her minor under the tutelage of Eric Dalheim. During her doctoral studies, she won the first prize at the Irene Tintner International Piano Competition and was subsequently invited to perform with the Germania Orchestra in Michigan. She has performed concertos with Valley Civic Orchestra, North Shore Philharmonic Orchestra, Judson University Community Orchestra, and Elgin Community College Civic Orchestra. Currently, she is Associate Professor at Judson University and Music Director at West Alliance Church, IL. Her teaching areas at Judson University include applied lessons, class piano, piano literature, pedagogy, and history & practice of worship music.
top.
Ticket:
Special Sponsor $50 | Music Lovers $20
(예매처: 한국 서적, 생명의 말씀사 847-296-3160 아씨 마켓 건너편)
For Sponsorship and Information - call 847-890-1655
Our Saviors Evangelical Free Church
300 S. Schoenbeck Rd., Wheeling, IL 60090

(On Schoenbeck Rd between Dundee & Hintz)
(Across the Indian Trail Library)

Google Map
CONGRATULATORY REMARKS
축사

고국의 신인 음악인을 발굴하여 전문 음악인으로 성장할 수 있는 기회를 주기 위해 제5회 미래를 여는 음악회가 개최되는 것을 진심으로 축하합니다.
금번 음악회는 "사랑의 기쁨"이라는 주제로 즐겁고 낭만적인 음악을 연주하여, 시카고의 5월 저녁 우리들의 마음을 부드럽게 해주고, 삶의 풍요로움을 더해줄 것으로 기대합니다.

시카고에 계시는 한인동포 여러분께서 미래를 여는 음악회에 관심을 기울여주시고, 공연 관람을 통해 사랑의 의미를 되새기는 뜻깊은 시간을 가지시기를 바랍니다.
이번 공연의 성공을 기원하며, 공연 준비를 위해 수고해주신 저드슨대학의 이소정 교수님을 비롯한 관계자들께 감사드립니다.


주시카고 대한민국 총영사
허철
초대의 글


지난 4년간 "미래를 여는 음악회"에 보내 주신 후원에 진심으로 감사드립니다. 제5회 "미래를 여는 음악회"는5월 26일 토요일 저녁 7시 30분 Wheeling에 위치한Our Savior Evangelical Free Church에서 "사랑의 기쁨" (Love's Joy) 이라는 부제를 가지고 열릴 예정입니다. 교회의 위치, 500여석 되는 행사장의 크기, 무대 음향과 마이크 시설, 그리고 주차 등이 저희 음악회에 모두 적당하여 올해애는 이 새로운 장소에서 "미래를 여는 음악회"를 갖기로 하였습니다.


이번 음악회에는 Northern Illinois University의 음대 교수들로 이루어진 아발론 스트링 쿼르텟 (Avalon String Quartet) 을 특별 초청합니다. 작년과 올해 뉴욕과 시카고에서의 베토벤 현악 4중주 전곡 연주로 호평을 받은 바 있는 아발론 스트링 쿼르텟과 피아니스트 이 소정이 함께 연주하는 슈만의 피아노 5중주 이외에도 소프라노 라 은실 씨, 바리톤 김 기봉 씨가 피아니스트 송 지은 씨의 반주로 베토벤, 브람스, 슈만의 주옥같은 예술 가곡과 한국 가곡들을 선사할 것입니다.

2008에 시작된 이 음악회의 수익금 전액은 경제적 도움이 필요한 우수 한인 음악 인재의 학비 지원을 위해 사용되어 왔습니다. 지난 4회에 걸친 음악회의 수익금으로 4명의 한인 음악도가 이 장학금의 혜택을 받고 저드슨 대학교의 전문 연주자 과정에서 공부하는 기회를 가졌습니다. 특히 작년 음악회의 수익금으로 이화여대 음대를 졸업한 안 미정 학생이 현재 저드슨 대학의 전문 연주자 과정에서 전액 장학금으로 공부하고 있습니다. 좋은 뜻으로 이어지는 미래를 여는 음악회에 꼭 참석하셔서 많은 격려 보내 주시길 간곡히 부탁드립니다.

이 소정 드림
---
Sponsors