Concert Program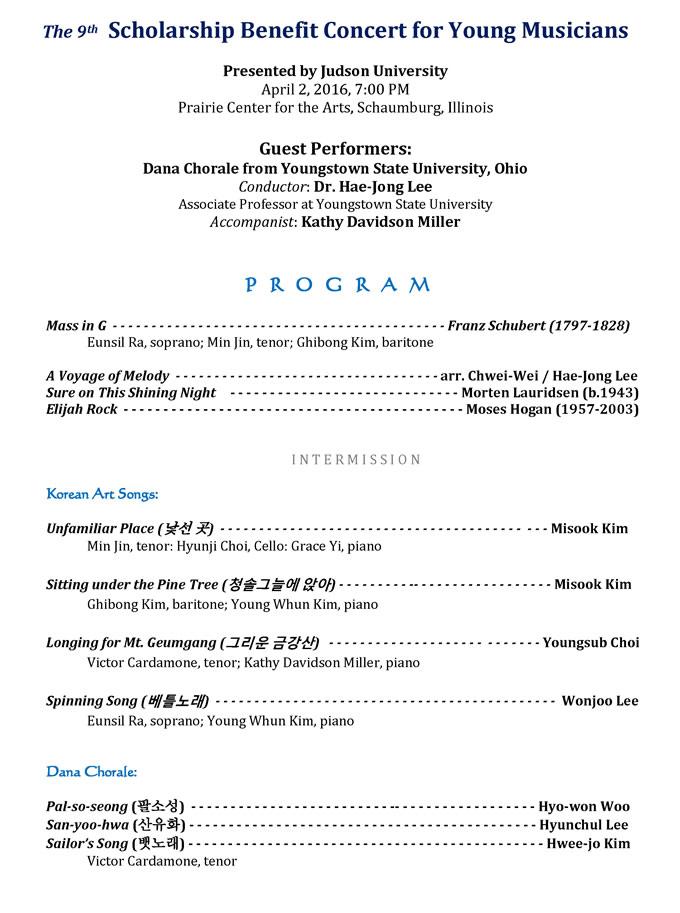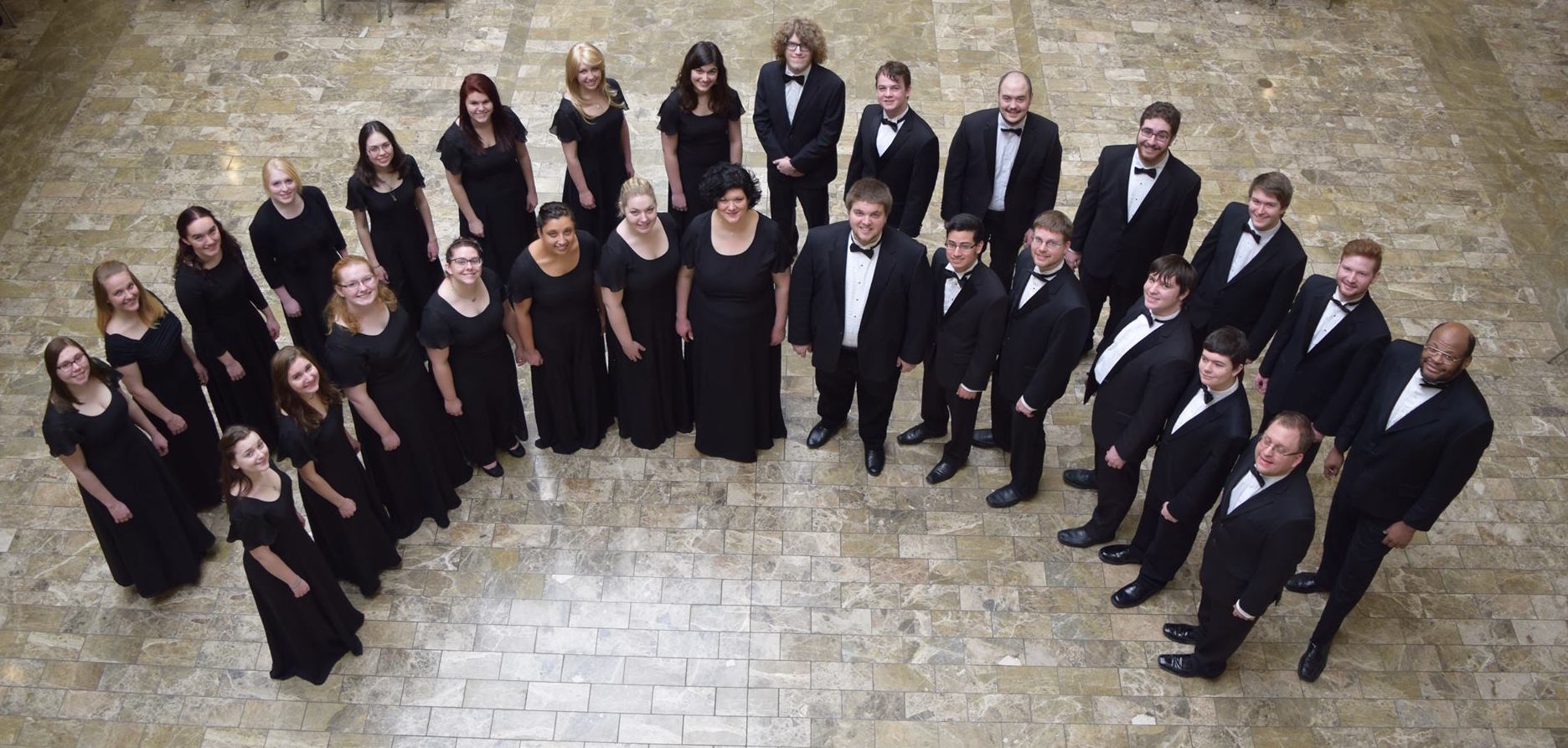 Youngstown State University's Dana Chorale is a select chamber ensemble, consisting primarily of music majors and minors. This ensemble toured European countries and performs regularly on campus and throughout the region, including numerous regional conference performances.
The Chorale enjoys a reputation of performing significant choral repertoire of all era consistently at the highest level. As a part of the larger Dana School of Music Symphonic Choir, the Chorale regularly performs with the Dana Symphony Orchestra, Symphonic Wind Ensemble and regional professional orchestras such as Youngstown Symphony Orchestra and Warren Philharmonic Orchestra.
Our recent choral/orchestral repertoire includes Fauré's Requiem, Schubert's Mass in G, Beethoven's Mass in C and Ode to Joy (Fourth Movement of 9th Symphony), Bach's Magnificat, Handel's Messiah, Pinkham's Christmas Cantata, Rutter's Gloria, Mendelssohn's Elijah, Mozart's Vesperae K.339, Coronation Mass and Requiem, and Vivaldi's Gloria and Magnificat, in addition to many other smaller works by great composers.
The Chorale shared a stage with the Peiyang Chorus of the Tianjin University, an internationally acclaimed collegiate choir from China, with all Lauridsen program. The Dana Chorale celebrated 140th anniversary of the Dana School of Music with a special performance of Carmina Burana by Carl Orff with YSU Symphonic Wind Ensemble. The ensemble serves as a core group of the Dana Holiday Concert, an immensely popular holiday event. Recently the premier ensemble also enjoyed a couple of world premieres, including the modern world premiere of C.P.E. Bach's St. Luke Passion (1775) and North-American premiere of the concert band version of Karl Jenkins' The Armed Man.
Dana Chorale Personnel List —Spring 2016

Hae-Jong Lee, director
Kathy Davison Miller, accompanist
Stephen West, graduate assistant

SOPRANO
Kristina Clemons Youngstown, OH
Sara Eckenrode Youngstown, OH
Anna Henkels Bethel Park, PA
Katy Howells Baden, PA
Anna Murcko Napoleon, OH
Victoria Remley Poland, OH
Brianne Samson Sharon, PA
Kortney Squibbs Orwell, OH
Erika Walker Canfield, OH

ALTO
Brianna Crawford Wampum PA
AnnaMaria Jadue Austintown, OH
Sydney R. Olejnik Howland, OH
Diane Pack Ravenna, OH
Victoria Patterson Austintown, OH
Amanda Nottingham Warren, OH

TENOR
Victor Cardamone NE Pittsburgh, PA
Kevin Casey Pilesgrove, NJ
Patrick Niess Warren, OH
Emilio Santiago Hermitage, PA
Nick Saraya Medina, OH
Stephen West Brunswick, GA

BASS
Nicholas Hazelton Grove City, PA
Paul Hill Youngstown, OH
Anthony Humphrey New Castle, PA
David Mouse East Liverpool, OH
Jason Volovar Poland, OH
Joel Gillespie East Liverpool, OH
Colton Randall Jamestown, PA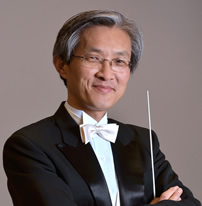 Hae-Jong Lee, Associate Professor, has been the Director of Choral Activities at the Dana School of Music, Youngstown State University, Youngstown OH since 2002. Lee also serves as the Artistic Director of Stambaugh Chorus and Warren Civic Chorus, and the Chorus Master of Opera Western Reserve.
Lee earned the D.M.A. degree from University of Illinois, Urbana-Champaign, the M.M. degree from Westminster Choir College, Princeton, NJ, and the B.M. degree from Seoul National University, Seoul, Korea. Lee has taught a wide range of vocal students in his private voice studio since 1986. He is also active in coaching conductors.
Lee is a strong advocate of "a linguistic approach to a beautiful tone, using consonants as facilitators." He presented a lecture of the same topic at the 10th World Symposium on Choral Music in Seoul, Korea during the summer of 2014. While visiting Korea, Lee also guest-conducted the Seoul Motet Choir and led multiple lectures and clinics for Korean choirs and choral workshops.
He remains active as guest conductor, competition jury, and clinician for a variety of choral events in the United States and Korea. His future engagements include serving as one of six international jurors of the Busan International Choral Festival and Competition on October, 2016 in Busan, Korea.
Lee is an Honorary Conductor of Noel Choir and serves as an Overseas Advisor of Korea Choral Institute and Seoul Motet Music Foundation. He is an active member of professional organizations, including ACDA, IFCM, and NAfME.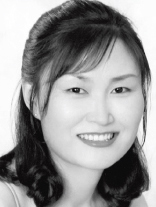 Soprano Eunsil Ra Kim, born in Seoul, Korea, began playing piano at the age of five and taking voice lessons at age eleven. She received a bachelor's degree in voice performance at Seoul National University. While she was studying at Seoul National University she was chosen as a soloist for 'French Art Song Festival' at The National Theatre of Korea and 'American Art Song Festival' at Seoul Arts Center.
Eunsil Ra continued her music studies in Italy at the Academy Jupiter in Genoa and at the National Conservatory of Music, 'Arrigo Boito' of Parma majoring in voice and vocal education. While she attended the conservatory, she performed as a soloist at "Pasqua" Concert at San Giovanni Basilica with the Parma Conservatory Orchestra. While she was active as an art song and oratorio soloist in Italy, her talent and training on keyboard led her to serve as an organist at Evangelic Methodist Church of Piacenza for six years and at Evangelic Methodist Church of Cremona for three years.
Since coming to the United States, she has performed as a soloist at the Chicago Voice Ensemble Concert and the Scholarship Benefit Concert for Korean Young Artists at North Shore Center for Performing Arts in Skokie. She was also a soloist of the oratorio Elijahperformed at Gospel Presbyterian Church in Schaumburg and Creationat Alliance Fellowship Church, Hoffman Estates. She served as a conductor of Korean YWCA Choir in Chicago. Currently, she serves as the conductor of Zion Choir and the Children's Choir at Alliance Fellowship Church, Hoffman Estates, Illinois.
Min Jin, Tenor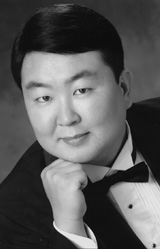 Tenor, Min Jin, has been describes as "… an admirable artist, combining easy lyricism and emotional intensity." The press further credits Dr. Jin as "…possessing a positively clear, ringing voice, perfectly placed upper register that is an unmitigated joy. His top notes just sail through the air and are so gorgeous in timbre." His ringing tenor has delighted audiences of concert and opera performances throughout Canada, Korea, Mexico and the United States.
He has appeared in many of the major concert halls throughout the Metropolitan area such as Carnegie Hall as a recitalist, opera performer, as well as an oratorio soloist with choral societies. As a soloist, he performed Haydn's Creation, The Seasons, Handel's Messiah, Mozart's Coronation Mass, Requiem, Dubois's The Seven Last Word of Christ, Mendelssohn's St. Paul, Elijah, Beethoven's Missa Solemnis, Mass in C Major, and his Symphony No. 9, Frank's Mass in A Op. 12, and Schubert's Mass No. 2 in G, Mass in A-flat among others with Rochester Philharmonic, New Jersey Philharmonic, Russian National Symphony, Yucatan Sinfonia, Geneseo Symphony, Toronto Sinfonia, Toronto Philharmonia, Eastman Philharmonic, Palisades Orchestra, Texas BC Orchestra and Quad City Symphony.
His opera performances include LaBoheme (Rodolfo),Lucia di Lammermoor (Edgardo),Romeo et Juliette (Romeo), Carmen (Don Jose), L'elisir d'amore (Nemorino), La Rondine (Ruggero), La Traviata (Alfredo), Tosca (Cavaradossi), Otello (Otello), Manon (Des Grieux), Werther (Werther), A Midsummer Night's Dream (Lysander),La Vera Costanza (Masino) and several roles with New Jersey State Opera, Aspen Opera, Mercury Opera, Dicapo Opera, Academic Opera, Mannes Opera, Eastman Opera, Kwang Ju City Opera and Po Hang City Opera. He appeared with Aspen Opera where he sang the role of Duke in Rigoletto under the baton of Julius Rudel. Most recently, he performed the roles of Nemorino in L'elisir d'amore at Mercury Opera. The Democrat and Chronicle praised his performance as Nemorino as being "unfailingly sensitive".
He was a First Prize winner of the Artist International Music Competition, Korean Music Association Competition and a winner of the Heida Hermann International Voice Competition, the Caruso International Voice Competition, and the Oratorio Society Voice Competition. He holds a Doctor of Musical Arts in Vocal Performance from the Eastman School of Music. Currently, Dr. Jin works as a voice faculty on the Grand Valley State University in Michigan.
Ghibong Kim, Baritone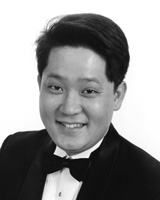 Baritone GhiBong Kim, born in Daegu, Korea, received his Bachelor's de­gree in Voice Performance at Seoul National University. Following this, he went to Parma, Italy to study at "Arrigo Boito" Conservatory, the same school for which Renata Tebaldi and Claudio Abbado at­tended. He graduated with the highest academic honors. He was also the finalist at Tito Schipa Voice Competition in Lecce and Flaviano Lavo' in Piacenza, Italy. His major teachers include Sherrill Milnes and Inci Bashar.
Mr. Kim's first professional appearance in Italy was as Cola in Paer's Camilla at Teatro Regio di Parma. Following this success, he was consequently engaged to sing as Belcore in Elisir d'mor, as Marcello in La Boheme, and as Rigoletto in Rigoletto with the same company. Other roles have included are (Lucia Di Lammermoor), Renato (Un Ballo In Maschera) and Valentine (Faust).
Since moving to the United States, Mr. Kim has been an active performer, not only in operas, but also as an oratorio soloist. Mendelssohn's Oratorio Elijah is his signature oratorio role. In 2006, Mr. Kim made his Chicago debut as Conte in Le Nozze di Figaro at Chicago Chamber Opera with the Northbrook Symphony Orchestra. Other roles include Germont in La Traviata with the Elgin Opera and Morales in Carmen at the DuPage Opera Theater.
Pianist Young Whun Kim is a collaborative pianist specialist and has been active as a coaching accompanist for various opera productions in both Korea and the U.S. Young Whun's extensive participation as the studio accompanist includes working with some of the world's most renowned musicians such as Janos Starker, Stefan Milenkovich, Ik-Hwan Bae, Teresa Kubiak. Kim also performed in Master classes with the worldwide classical musicians such as Gil Shaham and Renée Fleming.
Kim served as the associate instructor in the Piano Division at Indiana University's Jacobs School of Music and is currently the accompanying assistant at the University of Illinois Urbana-Champaign.
Kim received his Bachelor of Music in Piano Performance from Seoul National University, Masters and Performer's diploma with Shigeo Neriki from Indiana University's Jacob School of Music, and is currently pursuing his doctorate from the University of Illinois under the tutelage of Ian Hobson.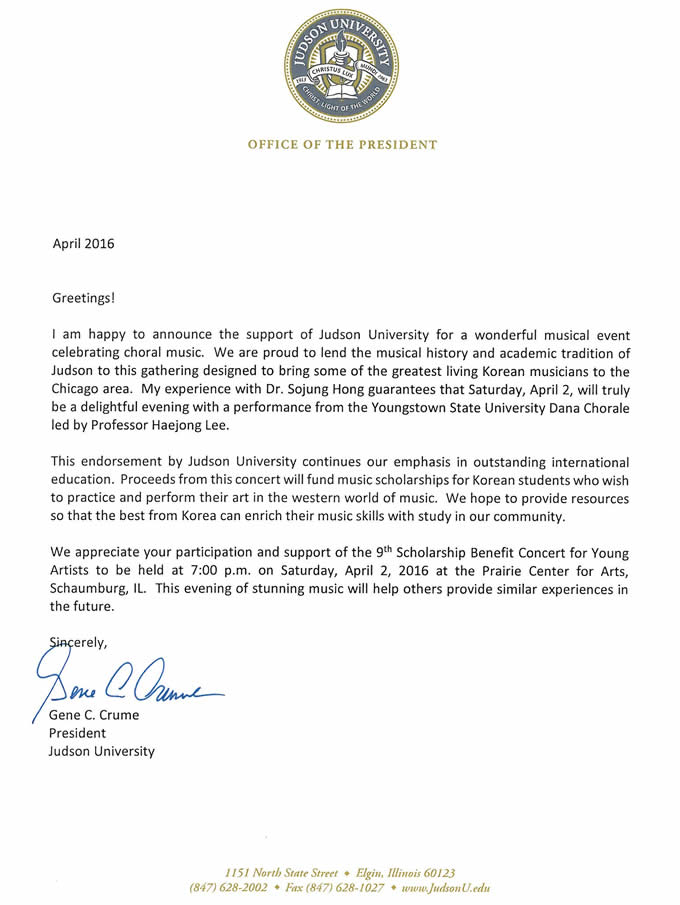 For purchasing tickets and pre-concert dinner reservations,

call (630) 730-6370 (Sojung Hong),


Prairie Center for the Arts in Schaumburg
201 Schaumburg Ct, Schaumburg, IL
Map
Concert Video Recordings Index Page
[WIN TV] - 박원정 PD
오하이오 영스타운 주립대학 Dana Chorale이 함께 한 제9회 미래를 여는 음악회를 조명. 후반부 - 연주곡 '산유화' (이현철곡, 김소월시) 삽입, 취재: 박원정, 최민주. WIN TV 2016년 4월 12일 방송
시카고 공중파 24.5 WIN TV - Chicago MBC
https://youtu.be/HGuFX34w-Zw
---
특별 후원: 한국일보, LG 전자, 매직 셰프