Judson University presents
The 3rd Scholarship Benefit Concert for Young Artists
The theme for 2010 Concert is
"SERENADE TO SPRING:
An Evening with Chamber Music."
Sunday, March 28, 2010, 6:00 PM
Herrick Chapel,
Judson University
1151 North State St., Elgin, IL 60123
| Performers | Ticket Purchase | Directions | Concert Poster | Photos from the Concert | Concert Video Clips

"Spring is coming,Spring, my joy;
now I will make ready to go journeying."
from "The Shepherd on the Rock"
Sojung Hong, Associate Professor of Piano at Judson University will lead a chamber music group performing gems of classical music. Nazar Dzhuryn, Assistant Principle Cellist at Elgin Symphony Orchestra, and clarinetist Yoonjoo Rachel Song will join in Beethoven's Trio in B-flat major. "The Shepherd on the Rock", one of the Franz Schubert's outstanding art songs written in his final year will be heard by soprano Eunsil Ra Kim. Other pieces such as Cello Sonata by C. Franck and Italian and Korean art songs that celebrate the spirit of spring will be performed as well.
Proceeds from this concert will fund scholarships for Korean music students who wish to gain a foot-hold in the western world of music through the study in the Performance Certificate in Music program at Judson University.
The concert program:
Trio for Piano, Clarinet, & Cello in B flat major
by L. v. Beethoven
"Shepherd on the Rock" for Soprano, Clarinet,
& Piano by F. Schubert
Sonata for cello & piano by C. Franck
Korean and Italian Art Songs
Sojung Lee Hong, piano
Nazar Dzhuryn, cello
Yoonjoo Rachel Song, clarinet
Eunsil Ra Kim, soprano
Ticket:
Adult $20
Student $5
Pre-Concert Dinner ($10 per person)
will be held at Judson Eagle Lounge from 4:30 PM.
우수신인음악인발굴과육성을위한
미래를여는음악회시리즈 3
피아노: 이소정
첼로: 나자르쥬린
클라리넷: 송윤주
소프라노: 라은실
봄의세레나데
---피아노, 첼로, 클라리넷, 소프라노와함께하는실내악의밤---
베토벤의피아노, 클라리넷, 첼로를위한트리오 B-flat 장조
슈베르트의소프라노와클라리넷을위한가곡, "바위위의목동"
한국, 이태리가곡등
주최: 저드슨대학교
특별후원: 시카고한국일보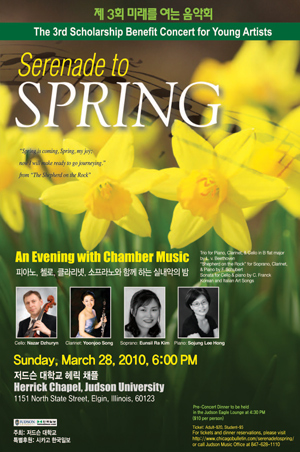 View the Concert Poster