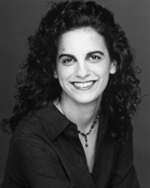 Stacy Garrop has received several awards and grants including the San Francisco Song Festival's 2007 Phyllis C. Wattis Prize for Song Competition, 2006/2007 Detroit Symphony Orchestra's Elaine Lebenbom Memorial Award, the Pittsburgh New Music Ensemble's 2006/2007 Harvey Gaul Composition Competition, the 2005 Raymond and Beverly Sackler Music Composition Prize, 2005 and 2001 Barlow Endowment commissions, Chicago Symphony Orchestra's 1999-2000 First Hearing Composition Competition, Omaha Symphony Guild's 2000 International New Music Competition, and the New England Philharmonic's 2000 Call for Scores Competition. She was selected to participate in reading session programs sponsored by the American Composers Orchestra, Minnesota Orchestra (the Composers Institute), and the Dale Warland Singers.
Her works have been performed by the Albany Symphony Orchestra, Amarillo Symphony, Charleston Symphony Orchestra, Civic Orchestra of Chicago, Detroit Symphony Orchestra, Erato Chamber Orchestra, Grant Park Music Festival Orchestra, Illinois Symphony Orchestra, Minnesota Orchestra, Minnesota Youth Orchestra, National Repertory Orchestra, New England Philharmonic, Omaha Symphony, Santa Cruz Symphony, and the Women's Philharmonic; by the ensembles Ambassador Duo, Anaphora Ensemble, Artaria String Quartet, Biava Quartet, Callisto Ensemble, EARPLAY, Empyrean Ensemble, Enso Quartet, Helikon Ensemble, Indiana University's New Music Ensemble, International Contemporary Ensemble (ICE), Lincoln Trio, New EAR, Orion Ensemble, Pilgrim Chamber Players, Pittsburgh New Music Ensemble, Seattle New Music Ensemble, Society for New Music, and Third Angle; and by Chicago A Cappella, C4, Murray State University Concert Choir, musica intima, Peninsula Women's Chorus, Princeton Singers, Santa Cruz Chamber Singers, University of Michigan Chamber Choir, and Volti. Her works have been choreographed by the a-ha! Dance Theatre of Kansas City, and conducted by Martín Benvenuto, Jerry Blackstone, Cliff Colnot, Karen Lynne Deal, Apo Hsu, Paul Hostetter, Peter Oundjian, Donald Portnoy, Jeffrey Renshaw, Steven Sametz, James Setapen, Stephen Squires, and Victor Yampolsky.

Dr. Garrop is in residence with the Albany Symphony Orchestra for the 2009/2010 season. She was composer-in-residence of Chicago's Music in the Loft chamber music series in 2004/05 and 2006/07. She has attended residences at the Atlantic Center for the Arts, Aspen Music Festival, Banff Centre for the Arts, MacDowell Colony, Millay Colony, Oxford Summer Institute, Ragdale Colony, Round Top Music Festival, Wellesley Composers Conference, and Yaddo Colony. Theodore Presser Company and Hildegard Publishing Company publish several of her works.
Dr. Garrop was guest composer and speaker at the Texas Association for Symphony Orchestras conference in Amarillo, Texas in 2004. She has guest lectured at Indiana University, University of Chicago, Northwestern University, University of Missouri at Kansas City, University of Idaho at Moscow, University of North Carolina at Greensboro, University of South Carolina at Columbia, University of Nebraska at Omaha, Amarillo College, Carleton College, and West Texas A&M University.
She earned degrees in music composition at the University of Michigan - Ann Arbor (B.M.), the University of Chicago (M.A.), and Indiana University - Bloomington (D.M.). Dr. Garrop is an Associate Professor in Composition at the Chicago College of Performing Arts of Roosevelt University.