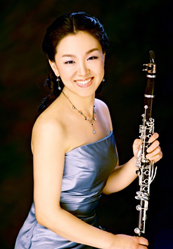 Yoonjoo Rachel Song began her music studies with Piano at the age of five. In junior high school, she switched to the clarinet and was accepted into Seoul Arts High School where she began her studies to become a professional musician.
Upon graduation from high school, she entered Ehwa Women's University, where during her first year she was selected by her professors to perform the whole movement of Mozart's Clarinet Concerto with the Ehwa Orchestra.
After receiving her BM in Music from Ehwa, Ms. Song moved to Munich, Germany.
She was accepted into the class of Alois Brandhofer, Principal Clarinetist of the Berlin Philharmonic Orchestra under Karajan, at the Universität Mozarteum in Salzburg, Austria, where she received her BM, graduating with honors after receiving the highest marks from the entire graduation panel.
Ms. Song continued her studies under Ulf Rodenhäuser, who was the Principal Clarinetist of the Berlin Philharmonic Orchestra under Karajan, at the Hochschule für Musik und Theater in Münich, Germany, where she received her Masters and Doctorate in Music.
In 2001, while attending a Master Class held by Francois Benda at Ascona Ticino Musica in Switzerland, Mr. Benda recommended Ms. Song as a soloist for a concert in Locarno, Switzerland. Her performance drew praise from Flautist Andras Adorjan, who was in the audience that night.
Ms. Song continued to perform on numerous stages in Austria, Germany and Switzerland as a soloist and as a guest clarinetist with the Starnberg Orchestra in Germany.
She also performed at a benefit concert conducted by Lorin Maazel in Munich.
After returning to Korea in 2003, Ms. Song performed with various chamber musicians, woodwind quintets and was a guest clarinetist with the Korean Symphony Orchestra and the Wonju and Suwon Symphony Orchestras.
Ms. Song held her first Korean solo recital at the Seoul Arts Center in 2005. Before coming to Chicago in 2007, she was a member of the Seoul Clarinet Ensemble and the Prime Philharmonic Orchestra and taught clarinet at the Seoul University of Education.
In October, 2007, Ms. Song performed in her first Chicago concert as the guest principal clarinetist with the University Symphony Orchestra. The following month, she performed with other Seoul Arts High School Alumni at a benefit concert for the Salvation Army's Annual Christmas Fundraiser. Since then, Ms. Song has performed in various concerts, including "A Music Night of Oaxaca" and the "All Beethoven Concert".