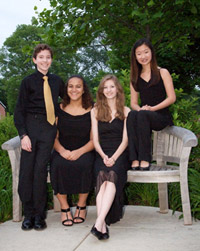 Jennifer Cha, violin
Erika Gray, violin
Caitlin Adamson, viola
Johannes Gray, cello
Quartet Ventoso, one of Chicago's most exciting young quartets, was recently awarded First Prize in the 2012 Society of American Musicians Jules M. Laser Chamber Music Competition. Quartet Ventoso comprises award winning students from the Music Institute of Chicago and is coached by artist faculty member Desirée Ruhstrat. Praised for their homogenous sound, Jennifer Cha (violinist), Erika Gray (violinist), Caitlin Adamson (violist), and Johannes Gray (cellist) join their individually strong voices with the true connection and communication of a well-established quartet. In 2011 appearances by Quartet Ventoso included the Cedille Records November Night Benefit reception, Ravinia Festival in the Kraft Kids for Kids series and a performance as part of the Lively Arts of Chicago presentations. Upcoming performances include the Music in the Loft Benefit and a live performance on 98.7WFMT. Quartet Ventoso's name, meaning windy in Italian, reflects their roots in the "Windy City," where they are quickly gaining exposure and recognition as one of the city's most promising new quartets.
Bringing energy and enthusiasm to the stage, Quartet Ventoso believes chamber music is one of the most effective ways to make classical music accessible to young and new audiences. The quartet aspires to building relationships with future classical music audiences through continued outreach and educational performances. Quartet Ventoso has a commitment to studying a wide range of modern and traditional quartet literature. They have developed a diverse repertoire from Haydn to Shostakovich, including contemporary works by living composers, such as Demons and Angels by Stacy Garrop.
Jennifer Cha
Violinist Jennifer Cha, student of Desirée Ruhstrat, has been a top prize winner in numerous competitions. She was featured on the PBS program From the Top and WFMT's Introductions as well as the NPR feature How Do You Get To Carnegie Hall? Jennifer is concertmistress of the Chicago Youth Symphony Orchestra and recently served as concertmistress of the IMEA Honors All-State Orchestra. She has appeared as a soloist with the Wheaton Symphony Orchestra.
Erika Gray
Violinist Erika Gray, student of Desirée Ruhstrat, is concertmistress of the New Trier Symphony and Chamber Orchestras. She will appear as soloist with the New Trier Symphony Orchestra in April as the winner of the 2012 concerto competition. Erika also worked with renowned conductor Riccardo Muti for the Youth in Music Festival Orchestra in Chicago. She attends The Academy of the Music Institute of Chicago.
Caitlin Adamson
Violist Caitlin Adamson, student of Desirée Ruhstrat, was named a 2011 and 2012 Sphinx Competition semifinalist and has won top awards in the Society of American Musicians Competition and the DePaul Concerto Festival for Young Performers. Caitlin has appeared as a soloist with the Oistrach Orchestra. She attends The Academy of the Music Institute of Chicago.
Johannes Gray
14-year-old cellist Johannes Gray is an active member of the Music Institute of Chicago's prestigious pre-collegiate Academy Program where he holds the 2012 Betsey and John Puth Academy Fellowship. As an Academy Fellow, Johannes takes part in music theory and master classes, as well as chamber music and orchestral performances. For the past 11 years he has studied with MIC's artist faculty members Hans Jørgen Jensen and Gilda Barston.
Starting cello at age two, Johannes played his first public concert at three, and since then has performed extensively throughout the United States, as well as in Canada, Germany and Switzerland. February of 2012, Johannes was featured on NPR's From the Top radio program, one of the most popular classical music programs on radio, and in May, he will perform with the Chicago Symphony Orchestra as the first place winner of the 2011 Crain-Maling Foundation Chicago Symphony Orchestra Youth Auditions.
Johannes has performed in many venues including Symphony Center's Orchestra Hall, Ravinia's Pavilion Stage and Martin Theatre, the Preston Bradley Hall at the Chicago Cultural Center, Northwestern University's Pick-Staiger Concert Hall, and Ganz Hall, among many others. In addition to performing in traditional venues, Johannes aspires to share his love of music with public schools, senior centers, community libraries, and events for good causes, such as performing a concert for an owl at a zoo. Johannes and his family have presented a biannual 'family concert' at their home since May 2000, when Johannes had just turned three.
He performs repertoire ranging from Beethoven, Brahms, and Dvorak, to lesser-known composers, such as Victor Herbert, Heitor Villa-Lobos, and Pablo Casals. Johannes performed as guest artist with the Elmurst Symphony Orchestra, the Highland Park Strings, the Skokie Valley Symphony, the Oistrak Symphony Orchestra, and the Midwest Young Artist's Symphony Orchestra.
In addition to the 2011 Crain-Maling Youth Auditions, Johannes has been awarded first place in many other competitions such as the Walgreens National Concerto Competition, the Sejong Music Competition where he received a special award for Best Interpretation of the Korean Piece, all four age divisions of the Chinese Fine Arts Society Music Competition in Honor of Confucius, as well as its Amei Hu Lin Scholarship Duet Competition, with pianist Ryan Jannak-Huang, the DePaul Concerto Festival for Young Performers, and the Society of American Musicians Competition.
Johannes has played for a number of today's leading cellists including Aldo Parisot, Amit Peled, Anthony Elliot, David Finckel, Janos Starker, Laurence Lesser, Lynn Harell, Ralph Kirshbaum, Robert Nagy, Timothy Eddy, Wendy Warner, and Yo-Yo Ma. In addition to playing for Yo-Yo Ma, Johannes had a chance to collaborate with him in chamber music. Also, Johannes performs chamber music with his family string quartet and clarinet quintet the Shades of Gray. For the last two summers, Johannes participated in the Young Performers Program at Music@Menlo in Menlo Park, California under the direction of David Finckel and Wu Han.
Outside of music, Johannes loves birds and is an avid reader. His favorite author is Michael Crichton, because of the scientific aspect of his fiction books, as well as his compelling writing. He practices his cello every day under the watchful eyes of his cat, Athena. Currently, Johannes is a freshman at New Trier High School, where he enjoys his academic classes.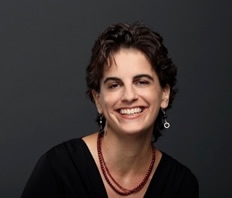 Stacy Garrop's music is centered on direct and dramatic narrative. The sharing of stories is a defining element of our humanity; we strive to share with others the experiences and concepts that we find compelling. In Stacy's works, this manifests programmatically in pieces without text (sometimes subtly, sometimes overtly) and more directly in pieces that draw upon poets and writers for source material.

Dr. Garrop has received numerous awards and grants including the Detroit Symphony Orchestra's Elaine Lebenbom Memorial Award, Pittsburgh New Music Ensemble's Harvey Gaul Composition Competition, Raymond and Beverly Sackler Music Composition Prize, two Barlow Endowment commissions, Chicago Symphony Orchestra's First Hearing Composition Competition, Omaha Symphony Guild's International New Music Competition, San Francisco Song Festival's Phyllis C. Wattis Prize for Song Competition, and the New England Philharmonic's Call for Scores Competition. She has participated in reading session programs given by the American Composers Orchestra, Minnesota Orchestra (the Composers Institute), and the Dale Warland Singers.

Theodore Presser Company publishes her chamber and orchestral works. Cedille Records, Innova, Equillibrium, Chicago a cappella Records, and Ravello Records have recorded her music on twelve CDs. Of particular note, Cedille Records released in February 2011 the first all-Garrop CD that includes String Quartet No. 3: GAIA, Silver Dagger, and In Eleanor's Words.

Dr. Garrop was in residence with the Skaneateles Festival and the Volti Choral Institute for High School Singers in 2011, Albany Symphony Orchestra in 2009/10, and Chicago's Music in the Loft chamber music series in 2004/05 and 2006/07. She has attended residences at the Atlantic Center for the Arts, Aspen Music Festival, Banff Centre for the Arts, MacDowell Colony, Millay Colony, Oxford Summer Institute, Ragdale Colony, Round Top Music Festival, Wellesley Composers Conference, and Yaddo Colony.

Her orchestra works have been performed by the Detroit Symphony Orchestra, Minnesota Orchestra, Grant Park Music Festival Orchestra, Albany Symphony Orchestra, Amarillo Symphony, Charleston Symphony Orchestra, Civic Orchestra of Chicago, Erato Chamber Orchestra, Illinois Symphony Orchestra, Minnesota Youth Orchestra, National Repertory Orchestra, New England Philharmonic, Omaha Symphony, Santa Cruz Symphony, and the Women's Philharmonic; her string quartets by the Cecilia, Chiara, Biava, Enso, and Artaria String Quartets; her chamber ensemble works by the Ambassador Duo, Anaphora Ensemble, Callisto Ensemble, Dinosaur Annex, EARPLAY, Empyrean Ensemble, Helikon Ensemble, Indiana University's New Music Ensemble, International Contemporary Ensemble (ICE), Lincoln Trio, New EAR, Orion Ensemble, Pilgrim Chamber Players, Pittsburgh New Music Ensemble, Seattle New Music Ensemble, Society for New Music, Third Angle, mezzo-sopranos Buffy Baggott and Julia Bentley, and pianists Amy Briggs, Winston Choi, and Kuang-Hao Huang; and her choir works by Chicago A Cappella, C4, Grant Park Chorus, musica intima, Peninsula Women's Chorus, Princeton Singers, Santa Cruz Chamber Singers, University of Michigan Chamber Choir, and Volti. Her works have been choreographed by the a-ha! Dance Theatre of Kansas City, and she has worked with numerous conductors including Martín Benvenuto, Christopher Bell, Jerry Blackstone, Cliff Colnot, Karen Lynne Deal, Robert Geary, Apo Hsu, Paul Hostetter, Carlos Kalmar, Jonathan McPhee, David Alan Miller, Peter Oundjian, Donald Portnoy, Jeffrey Renshaw, Steven Sametz, James Setapen, Stephen Squires, and Victor Yampolsky.

She is Head of Composition and Associate Professor of Composition at the Chicago College of Performing Arts at Roosevelt University.
website: www.garrop.com