Common Ground: Korean Emigrant Composers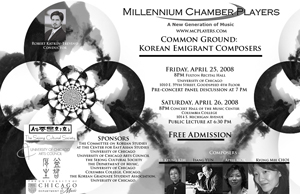 Friday, April 25, 2008
8pm
Common Ground: Korean Emigrant Composers
Fulton Recital Hall University of Chicago
1010 E. 59th Street, Goodspeed 4th Floor Chicago. IL
Admission Free
Pre-concert panel discussion at 7 PM
Moderator: Nicholas Harkness
~~~~~~~~~~~~~~~~~~~~~~~~~~~~~~~~~~~~~~
Saturday, April 26, 2008
8pm
Common Ground: Korean Emigrant Composers
Music Center Concert Hall Columbia College
1014 S. Michigan Avenue Chicago, IL
Admission Free
Public lecture at 6:30 PM
* Moderator: Andrew Patner (to be confirmed)
Garak - - - - - - - - - - - - - - Isang YUN
Stir Crazy - - - - - - - - - April MOK
Sonatina - - - - - - - - - - Isang YUN
~~~~~~~~~~~~~~ INTERMISSION ~~~~~~~~~~~~
Two Years with the Seine - - - - - - - - Hi Kyung KIM
Theme and Variations - - - - - - - - April MOK
Track - - - - - - - - Kyong Mee CHOI
Violin- Carmel Raz
Viola- Oana Tatu
Cello- Anna Steinhoff
Flute – Courtney Morton
Oboe – Kate Eakin
Clarinet – Carmen Izzo
Trumpet –Tim Carr
Piano- Mabel Kwan
Percussion - Nick Kraus
Conductor – Robert Katkov-Trevino
"Garak" for flute and piano (1963)
In "Garak" for flute and piano (1963), pitch continuity and dramatic organization meet by means of multiple repetitions. Change-tone figures (x), climbing 3-tone groupings, proposal tones, etc. construct (in conjunction with extraordinary formation of the dynamics) a continuum of constantly self-changing appearance in the form of the main-tone. If one looks exclusively to the model main-tone for explanation, it concerns the consequences of three main-tones (f, e, d#), each possessing approximately the same weight. The uniformity of this tone formation suggests, to be sure, a more comprehensive structural connection: namely a segment, which is established in first line in homogeneous and interrelated melismatic figures -- a procedure that gives it the appearance of a "decoration". Main tone technique (as - in the strict sense - determined by a central pitch as structural unit) proves to be a subsystem of a greater whole, on a level with other, analogous criteria regarding the specific tone organization manifested.
Written by Robert Gutmann, Institute of Electronic Music and Acoustics, Graz (Austria)
"Stir Crazy" for solo trumpet (2004)
"Stir Crazy" for solo trumpet (2004) The style of this piece was inspired by Hollywood music written for caper comedies and spy thrillers of the 60s. It is both loose and lucid, filled with erratic movements that require flexibility and precision, a sort of purposeful rambling. It demands that the performer not only play the trumpet, but also a whole "rhythm section" with his/her feet, by tapping, stomping, and jumping -- the theatricality of which lends the piece another dimension of expression. The piece is dedicated to my father, whose love of music first set me on a continuing path of self-discovery.
"Two Years with the Seine" for clarinet and cello (2007)
"Two Years with the Seine" for clarinet and cello (2007) In 1988-1990, I lived in Ile St. Louis in Paris, nearby the Seine. In the neighborhood, there were Notre Dame, Pont Neuf, Willow Trees, all within walking distance. I have tried to depict my 2 years of experience of Paris life as if I were riding in a boat on the Seine, traveling through the city. I remember the last day in Paris so vividly, which affected my life since then. A heavy armoire crashed on me! This became a painful and humbling experience, which still is a part of a beautiful memory of my life in Paris.
In this piece, there are important references to Korean Court Music, Sujecheon and Korean vocal music, Gagok.
Two Years with the Seine was commissioned through the Arts Council Korea and written for Jean-Michel Fonteneau-John Sackett Duo, who premiered the piece at the Festival for Korean Gayageum and Western Instruments in California and Seoul in April-June 2007.
This piece is dedicated to my friend, musicologist Jinmi Huh Davidson.
"Theme and Variations" for oboe, viola, and piano (2006)
"Theme and Variations" for oboe, viola, and piano (2006) uses 3 distinct chords as its building blocks -- a 6-note chromatic cluster, a 4-note octatonic segment, and a minor 3rd dyad, all designed with the potential for scalar and symmetrical treatment. The formula begins to break down during Var. IV, the central section, and thus the Fantasia that follows begins completely freely. The Fantasia then retraces the theme and 3 variations that precedes Var. IV in reverse order, while the formula gradually re-coalesces. True to the form, different moods and characters are portrayed, such as longing, anguish, absurdity, expansive plaintiveness, and obsessive orderliness and precision.
"Track" for flute, clarinet, percussion, piano, violin and cello (2008)
"Track" for flute, clarinet, percussion, piano, violin and cello (2008) is a "transcription" of the composer's life story. There are a total of ten sections, each of which describes memorable events or experiences from each period. On the whole, the piece attempts to depict the unfolding of one's life in light of constant fluctuation.
Isang Yun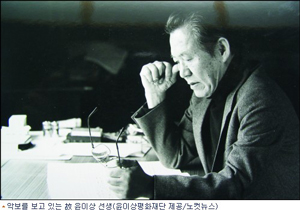 Isang Yun's oeuvre rests upon the flexible, vibrant tone of his native country's traditional music. Yet in the integration of dodecaphony and "developing variation" into his own "main-tone technique", Yun's music is also rooted in the European tradition. His composing manner blends eastern and western elements into a unique personal style, into the art of gliding transition in the spirit of Tao.
Isang Yun was born on September 17, 1917 near the southeastern seaport Tongyông, at a time when the Korean peninsula was under Japanese occupation. Yun took part in the resistance against Japan, and in 1943, he was imprisoned and tortured. After receiving the Seoul City Culture Award in 1955, he was able to study in Paris and Berlin from 1956 to 1959. In Berlin he studied with former Schönberg-disciple Josef Rufer, learning how to compose "with twelve tones related only to one another". From Germany, Yun was able to establish contact with and was a part of the international avant-garde.
His Buddhistic oratorio Om mani padme hum met with broad resonance in 1965; the premiere of the orchestral Réak at the Donaueschingen Festival in 1966 lead to his international breakthrough. In 1967 Yun was abducted form Berlin to Seoul by the Korean secret police, and was tortured and charged with high treason. In a political show trial he was sentenced to life imprisonment in the first instance, but released in 1969 after international protests. In 1971 he became a German citizen.
Yun taught composition at the Hochschule der Künste Berlin from 1970 to 1985, from 1974 on as a full professor. His oeuvre includes more than a hundred works, among them four operas and a number of instrumental concertos. In the 1980s he composed a series of five major, interrelated symphonies; during that period Yun also developed a new tone in his chamber works, which are characterized by the striving for harmony and peace. At the same time, reconciliation on the Korean peninsula was his political goal.
Yun died on November 3, 1995 in Berlin, and was interred in a grave of honor provided by the City Senate. He was a member of the Hamburg and Berlin Academies of the Arts and of the European Academy of the Arts and Sciences in Salzburg, an honorary member of the International Society of Contemporary Music. He also held an honorary doctorate from the University of Tübingen, and was the recipient of the Goethe Medal of the Goethe Institute in Munich and the Distinguished Service Cross of the Order of Merit of the Federal Republic of Germany.
Hi Kyung Kim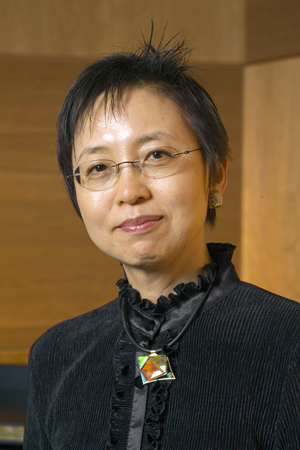 Hi Kyung Kim was born in Seoul, Korea and received composition degrees from the Seoul National University where she studied with Lee Sung-Jae, and the University of California, Berkeley where she studied with Andrew Imbrie and Olly Wilson. Kim also spent two years, 1988-90, as a composer-in-residence at IRCAM, and in private study with Gérard Grisey. Kim currently teaches composition at the University of California, Santa Cruz where she also runs the Pacific Rim Music Festival.
For her work, Kim has received recognition from the American Academy and Institute of Arts and Letters, Fulbright Council, commissions from arts and cultural institutions-Library of Congress (Koussevitzky Commission), Fromm Music Foundation at Harvard University, and Meet the Composer (Commissioning USA Grant), and commissions from performers-the Alexander String Quartet, Yo-Yo Ma and the Chamber Music Society of Minnesota, Ensemble Parallèle, San Francisco Contemporary Music Players, Blue Print Festival, Aki Takahashi, Aeri Ji, and Contemporary Music Ensemble Korea among others. Since her 2001 work At the Edge of the Ocean, Kim has incorporated many Korean musical elements and instruments into her works. Recent works with such elements are Primitive Dance, At the Edge of the Ocean for Hun Qiao (Bridge of Souls), Rituels I-III, A Story for gayageum solo, Trio Sori and The Poet, Kim Sat Gat for daegeum solo. Works currently in progress are Isle of Eeo, Requiem, and Rituel Suite being written in memory of Andrew Imbrie. As an artistic director, Kim actively promotes performances of new and traditional music from the Pacific Rim regions. She has organized multiple events such as Korean Musical Ceremony, the Pacific Rim Music Festival, and the Festival for Korean Gayageum and Western Instruments, featuring American and Asian artists and composers in forums, workshops, and concert.
Hi Kyung Kim's music is published by the C.F. Peter Edition, Soo Moon Dang Publishing in Korea and CDs are released by Albany, Centaur, Capstone records and forthcoming CDs released by New World Records (Music by Andrew Imbrie and Hi Kyung Kim) and Albany Records (Tribute to Chou Wen-chung / Pacific Rim Music Festival CD series No. 1).
Kyong Mee Choi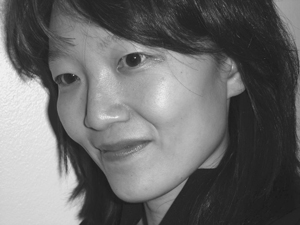 Kyong Mee Choi, composer, painter, and visual artist, is an Assistant Professor of music composition at Roosevelt University in Chicago where she teaches composition and electro-acoustic music. She received a B.S. in chemistry and science education at Ewha Women's University, and studied Korean literature in a master's program at Seoul National University in South Korea. She received a M.M. in music composition at Georgia State University and a D.M.A. at the University of Illinois at Urbana-Champaign.
She mainly writes chamber, electro-acoustic, interactive, and multi-media music. She has had many works awarded and recognized in numerous places: Luigi Russolo International Electroacoustic Competition, Australasian Computer Music Conference, MUSICA CONTEMPORANEA in Ecuador, Third Practice, International Computer Music Conference, Electroacoustic Musical Festival in Santiago de Chile, Spectrum Press and the Los Angeles Sonic Odyssey, Merging Voices, Music Beyond Performance, Electronic Music Midwest, International Society for Contemporary Music, Society of Electro-Acoustic Music in the United States, Society of Composers, Inc., College Music Society, MUSICA NOVA among others. She won the second prize at VI CIMESP Concurso Internacional de Música Eletroacústica de SãoPaulo and awarded Mention for Palmarès du 32e Concours International de Musique et d'Art Sonore Electroacoustiques de Bourges. She was awarded the first prize of ASCAP/SEAMUS Composition Commission and received first place at the Birmingham Arts Music Alliance Concerct Exchange program. She received Honorary Prize at the International Electroacoustic Music Competition: Musica Nova: Society of Electroacoustic Music of Czech Republic, She received the prestigious Robert Helps Prize 2007. Her interview with Theresa Sauer, Musicologist, American Musicological Society is now at Notations 21-An anthology of innovative musical notation. Her music can be found at CIMESP, SEAMUS, SCI, EMS, Détonants Voyages (Studio Forum, France).
Dr. Choi has also been active as a painter and visual artist, which have led her to experiment with integrating sound and image into a single artwork. Her recent multi-media exhibition was reviewed by Jenny Southlynn, saying, "The show is polished and elegant. The paintings mineral hues shimmer one beneath the other, as mesmerizing as a reflecting pool. The accompanying musical compositions play in perfect harmony with the works, completing the immersive meditative effect."
April Mok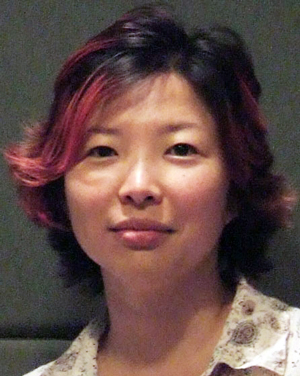 April Mok is a doctoral candidate in composition at the University of Chicago, where she is the recipient of the Century Scholarship, the Kaschins Fellowship, the Lowell C. Wadmond Research Fund Grant, and the Visiting Committee Performance Stipend Committee Grant.
She has also received grants and scholarships from the San Francisco Community Music Center and San Francisco Conservatory of Music.
Her solo and collaborative works include commissions from the Camellia Symphony Orchestra and the Millennium Chamber Players, and joint projects with choreographers Marina Eglevsky and Alycia Scott.
Her music has been featured at festivals such as the Santa Clara New Music Festival and the Chicago Composition Winter Festival, performed by such ensembles as the International Contemporary Ensemble and Contempo, and published in the online journal voiceXchange, and by the publishing house of Wolfhead Music.
Her roster of composition teachers includes Andrew Imbrie, Conrad Susa, Harvey Sollberger, Marta Ptaszynska, Bernard Rands, Howard Sandroff, and Shulamit Ran.
Conductor

At 24 years of age, Robert Katkov-Treviño, named among the Rising Stars of 2008 by Symphony Magazine, is Artistic Director of the Millennium Chamber Players, Music Director of the Modern Chamber Players of Texas, Assistant Conductor of the Ohio Light Opera, and a frequent guest conductor of the Chicago College of Performing Art's (CCPA) New Music ensembles and the Arlington Heights Festival Orchestra.
Katkov-Treviño made his European debut at the age of 21, conducting the Wuppertal Symphony Orchestra. Under his baton, the performance of Rimsky Korsakov's Scheherazade received television, newspaper, and public attention, where he was hailed as "incredibly talented, clear, precise, powerful, structured, and commanding." More recently, Katkov-Treviño traveled to Suwon, South Korea to conduct the Suwon Philharmonic, and to Mexico to conduct the Orquesta Filarmónica de la UNAM, Mexico City D.F. In 2005, Mr. Katkov-Treviño was appointed Assistant Conductor of the Ohio Light Opera Festival, the youngest conductor ever to hold this position since the company's inception, where his duties include supervising national auditions, conducting, and musical direction of two full opera productions.
In 2006, Katkov-Treviño was appointed Artistic Director of the Millennium Chamber Players, where he has conducted productions of Britten's Rape of Lucretia, Mozart's Marriage of Figaro, Walton's The Bear, Puccini's La Boheme, and the American premiere of L'Infedelta Fedele by Domenico Cimarosa, where he fully restored the work, created a new performance edition of the unpublished 200 year-old opera, and gave its most complete performance since the composer's lifetime. Katkov-Treviño is a vigorous promoter of the works of living composers, both emerging and established. Since his appointment with the Millennium Chamber Players, he has commissioned and premiered nine new works by composers, including Carmel Raz, Luca Belcastro, April Mok, Sarah Ritch, and Stas Omelchenko.

Millennium Chamber Players is Chicago's critically-acclaimed chamber ensemble specializing in new music and unconventional programming, the Millennium Chamber Players were founded in 2005 by graduates of Roosevelt University's prestigious performing arts program.
Under the direction of Maestro Robert Katkov-Trevino, the MCP have consistently garnered stellar reviews for their interpretation of challenging works ranging from Baroque classics to world premieres commissioned by the ensemble.
Past seasons have included fully staged productions of Puccini's La Boheme, Mozart's Marriage of Figaro, Britten's Rape of Lucretia, and the US premiere of Cimarosa's L'infedelta fedele, as well as performances of music by composers such as Aaron J. Kernis, Isang Yun, Shulamit Ran, Peter Maxwell Davies, Augusta Read Thomas, and Gyorgy Ligeti.
The ensemble has recently been featured at major venues across Illinois, including guest appearances at the University of Chicago, Northwestern University, Roosevelt University, Sherwood Conservatory, Illinois Central College, Lewis University, DePaul University, and on WFMT radio and Channel 25 TV.
Members and Soloists performing with the Millennium Chamber Players hold leadership positions in orchestras including the Chicago Symphony Orchestra, the Lyric Opera of Chicago, and at Universities across Illinois.
Nicholas Harkness
Nicholas Harkness is a doctoral candidate in Anthropology at the University of Chicago, and holds a B.A. in German Studies from Columbia University.
Harkness's dissertation, titled "The Voices of Seoul: A Study of Chronotopic Shift at the Phonosonic Nexus," draws on multimodal semiotic analysis to explore how differing models of time, space, and person become linked to perceptions, practices, and conceptualizations of voice in Seoul, South Korea. While completing Ph.D. coursework, Harkness carried out a research and curriculum-design project for the Chicago Opera Theater, supported by the University of Chicago Center for East Asian Studies, to prepare Chicago Public Schools students for a performance of John Adams's Nixon in China.
As a performing tenor, Harkness has given solo recitals for the Auxiliary Chapter of the Lyric Opera of Chicago, the Maxwell Recital Series, the University Club of Chicago, the Chicago Noontime Recital Series, and at the Camino Real in Puebla, Mexico.
He is a soloist with the Immanuel Choir of Somang Community Church in Seoul, and with the choir of the Church of the Ascension in Chicago. Other collaborations include performances with Schola Antiqua of Chicago and with the Grant Park Chorus. He has studied voice with Thomas Wikman, Adalbert Kraus, and Jane McMahan.
Andrew Patner
(Not yet confirmed) Andrew Patner is a native Chicagoan and a lifelong observer of the arts in this city. A former editor and staff writer of Chicago magazine and staff reporter for The Wall Street Journal, he was an arts critic and program host and producer for WBEZ-FM, Chicago's NPR affiliate, for eight years. A regular contributor of arts criticism (classical music, opera, theatre, dance, visual art, books, and film) to the Chicago Sun-Times since 1991, he is now heard as critic and interviewer on WFMT Fine Arts Radio.
Educated at the University of Chicago and the University of Wisconsin at Madison, his writing appears in Art & Antiques (where he is a contributing editor), The Art Newspaper (London), The New Yorker, German GEO, the Jewish Forward, the New Art Examiner, Die Opernwelt, The Christian Science Monitor, High Performance, and other publications. He is the author of I.F. Stone: A Portrait (Pantheon, 1988, Anchor paperback, 1990) and editor of Alternative Futures: Challenging Designs for Arts Philanthropy (Grantmakers in the Arts, 1995). He is a winner of the Peter Lisagor Award for his coverage of race and politics on the eve of Harold Washington's election as Chicago's first black mayor.
He was director of "Democratic Vistas: Towards a New American Arts Policy," a series of programs and discussions at Columbia College Chicago, sponsored by the John D. and Catherine T. MacArthur Foundation. He is a frequent lecturer and teacher both in Chicago and in Eastern Europe. He is an active member of the Association of Literary Scholars and Critics, The Cliff Dwellers, and the Arts Club of Chicago, where he serves as co-chair of the Interarts Council.
Click here for the directions to the concert venues.
Special Thanks
Special thanks to
the Department of Music at the University of Chicago,
the Sejong Cultural Society,
the Center for East Asian Studies at the University of Chicago and
the University of Chicago Arts Council, Columbia College
for their generous support of what promises to be a groundbreaking project
which will include lectures,
Q&A's and more with Kyung Mee Choi, April Mok, and others.